As promised I've got a project for you today. And with the new website I've also changed the format for these –  just ever so slightly. As before you'll get the Recipe of materials and tools … but now I've also added the Catalogue code no's in there too, to make it easier when you want to order the supplies I've used (just email or phone me if you want to place an order). Stamp sets will show a "W" for Wood mount or a "C" for Clear mount before the number. The project description will cover the key elements, less waffling, lol. Most of you know that my cards are generally A6 (cheapest and easiest for posting) and so I'll just highlight if it's any different from that. Shorter descriptions should leave me time to post more often but if you need more explanation you can always contact me (or leave me a comment to let me know you preferred the old descriptions).
Anyhow, on to today's project.
How is your Christmas cardmaking going so far? Not to worry if there's still a lot to do, there's plenty of time yet.
I'm gearing up for my Christmas Stamp-a-Stack on 6 August (you can book here). This card isn't one of the ones we'll be making but I wanted to show what else can be done with the same stamp sets that we'll be using. Sparkly and Bright is one of them.
I think so far I've only used the Bevelled Windowpanes with flower images and so I figured that it would be fun to use one to highlight one of the little characters from the stamp set with the pane: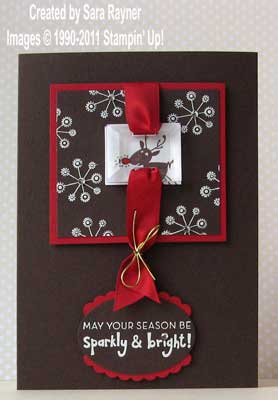 Recipe
Stamp set: Sparkly and Bright (W115346)
Cardstock: Chocolate Chip (108599), Real Red (106578), Whisper White (106549)
Ink: Versamark, Chocolate Chip (100908), Real Red Marker (100052)
Satin Ribbon: Real Red (117286)
Punches: Extra-Large Oval (119859), Scallop Oval (119856)
Other: Bevelled Windowpane (121881), White EP (100963), Gold Elastic Cord (109867), Basic Rhinestones (119246)
Tools: Heat Tool(110197), Embossing Buddy (103083)
Real Red Satin Ribbon was threaded through the pane and holds the stamped image in place and then Sticky Strip was used on the back of  the stamped image to adhere it to the card panel. The snowflakes and the sentiment were heat embossed with White EP and Basic Rhinestones were added to the centres of the snowflakes and to dot the "i" in Bright. A Scallop Oval of Real Red card was cut in half along the widest part and adhered to the back of the Extra-Large Oval to frame it.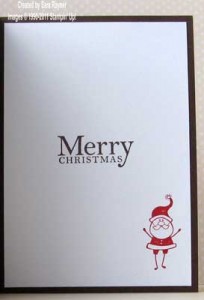 Recipe (inside)
Stamp sets: Sparkly and Bright (W115346), Occasional Greetings (sentiment) (W110520)
Cardstock: Whisper White (106549)
Ink: Chocolate Chip (108599), Real Red (103133)
Santa and the sentiment were stamped directly on the insert.
There's still time to enter the draw for the Blog Candy here.
Thanks for stopping by. Hope to see you again tomorrow.
Sara xx