You know what it's like – your nearest and dearest suddenly says:
Oh I need a card for so-and-so, can you make me one?
So you ask when it is. And it's never three weeks away is it? It's always tomorrow … or even today!
Well here's a quick and simple card that can just have the colour combo and/or the sentiment swapped out to fit the person and the occasion.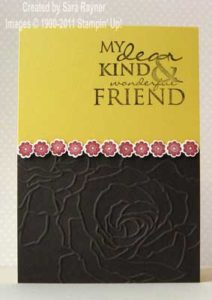 Recipe
Stamp set: Itty Bitty Bits (W117056 or C120060), Occasional Greetings (sentiment) (W110520)
Cardstock: Daffodil Delight (121680), Early Espresso (121686), Very Vanilla (106550)
Ink: Early Espresso (119670), Cherry Cobbler(119669)
Punches: Itty Bitty Shapes (118309)
Embossing Folder: Manhattan Flower (114517)
Tools: Big Shot (113439), Stamp-a-ma-jig (101049)
A panel  of Early Espresso card was run through the Big Shot with the Manhattan Flower embossing folder and adhered direct to the bottom of a Daffodil Delight card front. The teeny flowers were stamped, punched out with the matching Itty Bitty Shape and popped up on slivers of dimensionals to cover the join line. (Tip – place the first one in the centre and then work out from there to either side to keep them even).
Now please don't tell me you get plenty of notice for your cards. If you do, then you must leave me a comment and tell me how you got your loved ones trained, lol!
Have a great weekend.
Sara xx