I've been having a look through my cupboard to uncover some of my neglected crafting supplies today and came across my Fresh-Cut Notes cards. In case you've not spotted them before (they're easy to miss), these are a set of 15 pre-cut shaped cards (with envelopes). Please note that the catalogue states that Royal Mail will not process or deliver these cards. However, when I checked the Royal Mail site it actually says:
*Recommended limits mean those items which are easy for us to handle. If your envelope or card exceeds our recommended limits but is still within our absolute limits, we'll do our best to deliver it.
The recommended limit is a minimum 140mm. The absolute limit is 100mm. The Fresh Cut Notes envelope  is 108mm. So I'll leave it to you to decide.
Even if you decide that they're only good for hand-delivered cards they're great when you need something in a rush and even better done in different colours to gift as a set.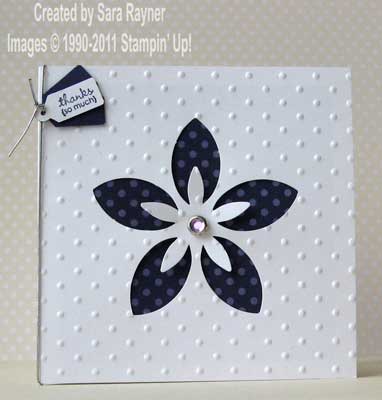 Recipe
Stamp sets: Tiny Tags (W118091 or C118592)
Cardstock: Fresh-Cuts Notes (111882), Concord Crush (121691)
Ink: Concord Crush (119785)
DSP: In Color Patterns Stack (117158)
Punch: Jewelry Tag (117190), Handheld 2mm (101227)
Embossing Folder: Perfect Polka Dots (117335)
Other: Circle Ice Rhinestone Brads (109111), Silver Elastic Cord (109866)
Tools: Big Shot (113439), Craft & Rubber Scissors (103179)
The pre-cut petals were pushed out of the card (you can always save these and use them to embellish another card later) and the card front was run through the Big Shot with the Perfect Polka Dots folder. A purple rhinestone brad was added to the centre of the flower ( I used my Craft and Rubber Scissors to shorten the brad's "legs" at the back so that they wouldn't show through). Concord Crush Patterns DSP was adhered behind the cut out shape so that the spots would show through the aperture. The Thanks sentiment from the Tiny Tags was stamped in Concord Crush ink onto Whisper White card and punched out with the Jewelry Tag. This was layered together with a couple more Jewelry Tags punched from Concord Crush card and tied onto the card with Silver Elastic Cord.
Have a great weekend.
Sara xx