Many thanks for the get well wishes. I'm feeling a little better today though still not able to sit at a table long enough to craft yet. But …
I have found a card that I haven't shared yet. This is one (or rather two) that I made when my MIL came to play and we were trying our hand at brayering. I decided to test out the results with both Whisper White "normal" cardstock and Glossy White. Can you tell which is which?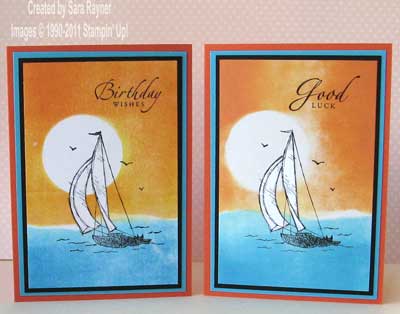 Recipe
Stamp set: Sail Away (W123013), Sincere Salutations (W105156)
Cardstock: Tangerine Tango (116206), Tempting Turquoise (108598) Basic Black (121688), Whisper White (106549)/Glossy White (106555)
Ink: Black Stazon (101406), Pumpkin Pie (105216), Tempting Turquoise (100814)
Punches: 1-3/4″ Circle(119850)
Tools: Brayer (102395)
Non-SU: Sticky Notes
The sailboat was stamped towards the lower half of the White card layer with Black Stazon ink. A 1-3/4″ Circle was punched from a sticky note and placed in position over the sails, for the sun. Another sticky note was torn across and placed to give a horizon between sky and sea and then the top portion of the card was brayered with Pumpkin Pie ink. The "sea" sticky note was flipped over and the bottom half of the card was brayered with Tempting Turquoise ink (don't forget to clean the brayer between inks 😉 ). The sentiment was stamped in Black Stazon in the top right corner. Tip – to make the sails "pop" (and so that you didn't have to mess with masking in the first place), they were stamped again with Black Stazon onto a piece of matching White card, cut out and adhered over the top of the original sails. The stamped layer was matted onto Basic Black and Tempting Turquoise card and then adhered direct to the Tangerine Tango card blank.
And here's the inside: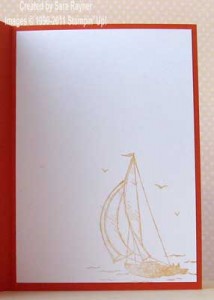 Recipe
Stamp set: Sail Away (W123013
Cardstock: Whisper White (106549)
Ink: Pumpkin Pie (105216)
The sailboat was inked with Pumpkin Pie, stamped off onto scrap and then stamped onto the insert for a softer, background look.
Have you figured it out already? The one on the right was Glossy White and the one on the left was "standard" Whisper White. Two slightly different looks but both effective in their own way.
Thanks for stopping by.
Sara xx