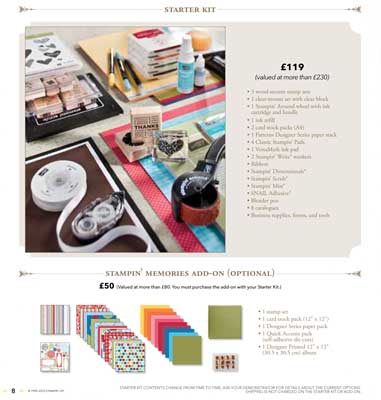 Well of course I think that any time is a good time to become a demonstrator 😉 but now is an especially great time. Why?
Because …
The new catalogue comes out at the beginning of October but as a demo you get to see it at the beginning of September.
Not only do you get to see the new catalogue but you also get to preorder some sneak peek and hostess items.
You know which products are retiring and which are staying so you can tailor your starter kit around them.
There's still time to sign up for the November Annual Convention at Disneyland Paris
You're getting started right at the beginning of the Stampin' Up! year and so have the maximum amount of time available to qualify for incentives.
You can make the most of the Christmas card-making market to earn some extra income.
I have some extra great offers for anyone joining my team before the end of September (just contact me for more information).
And this is all in addition to the usual benefits, available year round:
Huge discount on the customisable starter kit (now over £230 of tools and products for just £119)
30% discount off your first order over £150 placed in the first 45 days.
20% discount off all other orders.
Free newsletter every month with tips and techniques.
Access to on-line resources and business support.
Demo only offers and incentives.
Want to sign up! Want to know more? Just email me or give me a call on 0775 1133886.
Sara xx