When I made the white on white card yesterday I did have a problem initially with embossing the Whisper White card. The first piece I did came out quite cracked like this: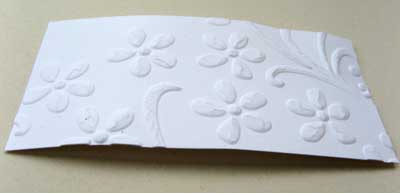 This hasn't been an issue with the coloured card at any time but the Whisper White and Very Vanilla cards have a coating on them and it seems to be this that is affected by the embossing.
I found that by putting a single sheet/strip of plain copy paper over the top of the Whisper White layer, before putting it into the embossing folder, it protected the embossing and I got a great result.
Every Big Shot is calibrated a little differently so you may need to experiment. One piece of copy paper may be sufficient for yours, as it was with mine, or you may need two.