Woohoo! I've just seen the new catty!! We've got some absolutely fantabulous new products coming our way. I've just placed an order for some of the sneak peek items – completely free! We had an incentive programme a few months ago and I qualified for a £100 product bonus (this is such a good company to work with – ask me how to sign up). Buying new catty items is fantastic but ordering them for free is even better!! Yay!
But … of course to make room for these lush new products we're having to say goodbye to some old favourites. Some of the products have got some hefty discounts – up to 40%. All are only available while stocks last so if there's a stamp set that you've been meaning to buy then this is the Last Chance to do so.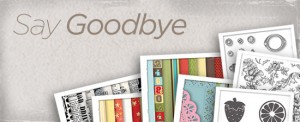 Click here to have a look at the Last Chance List and then email me to place your order. Thanks.
None of my top 5 are going but there's still some favourites in there that I'll miss; Cheers to You, Simply Said, Sense of Time etc. I'll be busy with them over the next few weeks  to show you what we're losing.
Right, better get ready for work now 😉
Sara xx