This is one of our retiring sets and I'm so sorry to see it go. It's a cheery fun set, ideal for tags and tree decorations. It includes a sentiment and the little snowflake is perfect for background stamping, making it a great stand alone set too eg. if you're just building up a stamp collection then this one will work without having to buy others to go with it.
I used it for the Christmas Stamp-a-Stack recently (the class by email is available for purchase here if you couldn't make it). This set of tree decorations matches the little easel card that we made.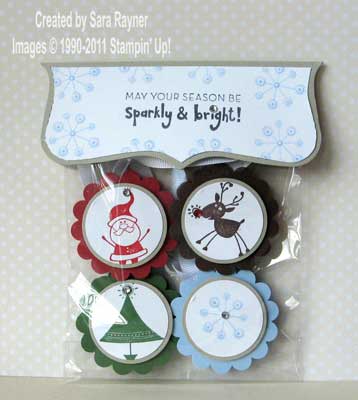 Recipe
Stamp set: Sparkly and Bright (W115346)
Cardstock: Sahara Sand (121695), Riding Hood Red (116205), Garden Green (108605), Chocolate Chip (108599), Bashful Blue (106565), Whisper White (106549)
Ink: Basic Gray (109120), Riding Hood Red (111836), Garden Green (102272), Chocolate Chip (100908), Bashful Blue (105209)
Punches: Scallop Circle (119854), 1-3/8″ Circle (119860), 1-1/4″ Circle (119861)
6mm Grosgrain Ribbon: Whisper White (109025)
Bigz Die: Top Note (113463)
Other: Medium Cellophane Bag (102757), Basic Rhinestones (119246)
Tools: Big Shot (113439)
Non-SU: Elizabeth Shaw Mints
The images were stamped onto Whisper White card with the appropriate ink and punched out with the 1-1/4″ Circle Punch. They were all matted onto 1-3/8″ Circles punched from Sahara Sand. Two Scallop Circles were punched from each corresponding colour cardstock. Sticky Strip was used to adhere a length of ribbon between each of the matching Scallop Circles and then a mint was sandwiched between them. The stamped images were popped up on each decoration with dimensionals. A Top Note was die cut once from Sahara Sand card and once from Whisper White card. The Whisper White Top Note was trimmed down (through the long edge and around the perforations) and stamped with the sentiment and the snowflake. This was matted onto the full size Sahara Sand Top Note that had been scored in half lengthways. The cellophane bag was trimmed down in size just a little and then the decorations placed inside and sealed in with the Top Note topper.
I'm off to one of our regional training get togethers tomorrow so off now to make some swaps to take. Just call me last minute stamper, lol.
Have a great weekend.
Sara xx