Are you still trying to decide what to get from the Last Chance List? Don't leave it too late. Things are starting to sell out. Already gone are:
Sense of Time
2010-2012 In Color Classic Stampin' Ink Refills
Riding Hood Red 12″ x 12″ Card Stock
Antique Brass Jumbo Eyelets
Pewter Jumbo Eyelets
Star Punch
Afterthoughts [w]
Cute by the Inch [w]
Luckily the set that I've used for this birthday card for my Dad is still available just now 🙂 but thought I'd better get in quick with it while I still can (and there's just no chance of my Dad seeing it on here to spoil the surprise).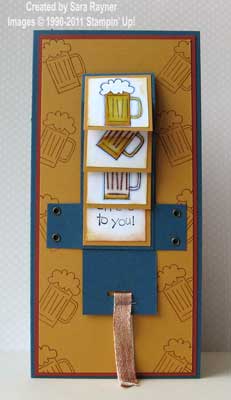 Recipe
Stamp set: Cheers to You (W111037)
Cardstock: Not Quite Navy (108606), Cajun Craze (121683), More Mustard (106569), Whisper White (106549)
Ink: Black Stazon (101406), Cajun Craze (119671), More Mustard (103162), Markers (119806)
Punches: 1-3/8″ Square (119877)
Other: Metallic Eyelets (105319), Crystal Effects (101055), 3/8″ Twill Tape
Tools: Crop-a-dile (108362), Sponge Daubers (102892)
Non-SU: Stapler
The base card is a DL of Not Quite Navy. This was matted and layered with Cajun Craze card and More Mustard stamped with the pint pot in Cajun Craze ink. The waterfall mechanism was matted and layered with images of the pint pot stamped and coloured to show it "emptying":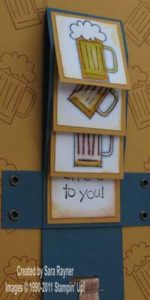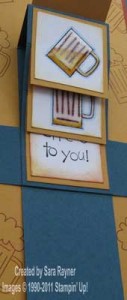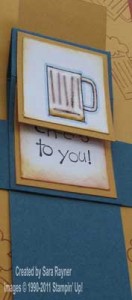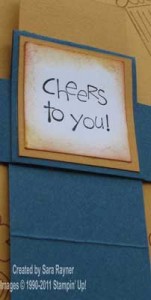 Tomorrow I'll have a quick tip for you on using the Twill Tape.
Sara xx