I've been having a major problem with spam today, something like 500 spam comments (all from betting and bingo sites – which I never use) over the space of 24hrs. So apologies, but I've had to switch a verification programme on to combat the spammers. Please stick with me and take the extra few seconds if you'd like to leave me a comment 

Anyway – another retiring stamp set for you today.
Ok, so maybe you hadn't thought about using Fresh Cuts for Christmas but I think it works well for creating a wreath – how about you?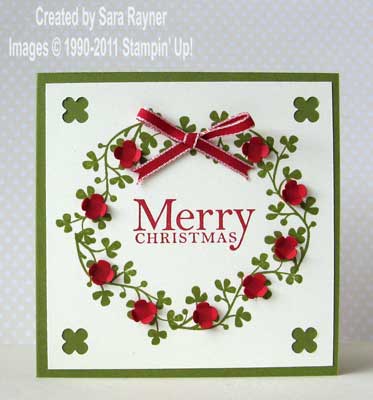 Recipe
Stamp set: Fresh Cuts (W111634), Occasional Greetings (W110520)
Cardstock: Old Olive(106576), Real Red (106578), Very Vanilla (106550)
Ink: Old Olive (102277), Real Red (103133)
Punches: Itty Bitty Shapes (118309)
3mm Taffeta Ribbon: Real Red (119251)
Tools: Stamp-a-ma-jig (101049), Mat Pack (105826), Paper Piercer (116631)
The card is a 10cm square of Old Olive. The wreath was stamped onto Very Vanilla card using the Fresh Cuts leafy frond and Old Olive ink. Real Red ink was used to stamp the sentiment in the centre, using the Stamp-a-ma-jig for perfect placement. The Mat Pack template was used to pierce a marker at the same point on each corner and the Itty Bitty Shapes punch (not retiring thank goodness!) was used to punch out a shaped aperture centred over each pin-prick. This layer was then adhered direct to the card front. Little flowers/berries were punched from Real Red card with the same Itty Bitty punch used for the corner apertures. The flowers were shaped a little and adhered around the wreath. A tiny little bow of Real Red taffeta was added to finish it all off.
Thanks for stopping by.
Sara xx