How the time flies. It doesn't seem five minutes since my last set of exams but it's Autumn and so I'm away training again. This time I'm down in London for the next stage of my Audit Advanced Diploma. I've brought some card, some of my new stamps and my markers, so after I've done a little revision from today's study, I'm going to chill with a bit of colouring in!
Anyhow, for now I'm going to share this month's batch of thank you's to my customers (sorry if I spoil the surprise for anyone). These cards are a CASE of one that I received at Regional Training in Leeds recently. I think it was by Maria but as I'm away from home I can't double check (I've checked the internet in the usual places and can't find it online). If it wasn't Maria and you recognise it as yours, then please do leave me a comment and I'll correct the post. Either way I thought it a truly elegant card and wanted to share it with my customers. I created it in three different colourways using ribbon that is retiring (or in the case of the Chocolate Chip, has already retired – I only just realised that as I started to write the recipe).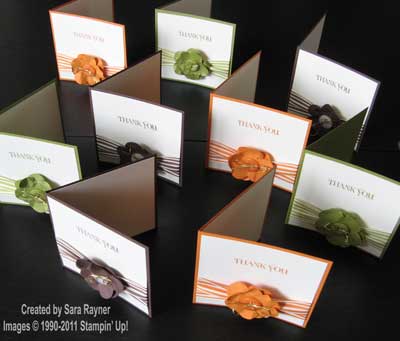 Recipe
Stamp sets: Curly Cute (W117014 or C120510)
Cardstock: Chocolate Chip (108599)/Pumpkin Pie (108601)/Old Olive (106576), Very Vanilla(106550)
Ink: Chocolate Chip (100908)/Pumpkin Pie (105216)/Old Olive (102277)
Punches: Fancy Flower (118073), Handheld 2mm Circle (101227)
Striped Grosgrain Ribbon: Chocolate Chip (already retired)/Pumpkin Pie (115616)/Old Olive (115618)
Other: Brights Buttons(119747), Neutrals Buttons (119743) Gold Elastic Cord (109867)
My version of the card is an 11cm square of Chocolate Chip/Pumpkin Pie/Old Olive. A Very Vanilla mat was stamped with the sentiment in matching ink and a piece of matching ribbon was wrapped around the bottom of the mat and secured on the reverse with Sticky Strip. Two Fancy Flowers were punched from matching card, crumpled (tip – a quick spritz with water makes them easier to crumple), the petals offset and the centre punched with the Handheld Circle twice, approximately button hole distance apart. Matching or co-ordinating buttons were then tied onto the flower and around the ribbon with Gold Elastic Cord tied in a little bow.
Right, off the hit the books and then I can get to the crafting!
Sara xx