I'm back! Sorry for the lack of posts this last week. I was away in London on a training course and unfortunately after a couple of days there, the conference room chairs put my back out again. It was as much as I could do to sit out the training and make my way back to the hotel each day.
Now I'm back home, nursing my back better and as I'm on leave this next week I'm looking forward to some pretty constant crafting. Yay!
This card uses an idea that's been buzzing around my head ever since I first saw the Pattern Pieces set and I finally got around to actually making it.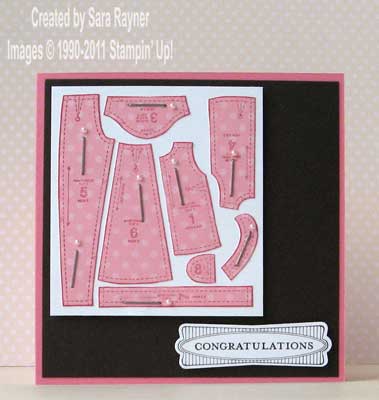 Recipe
Stamp sets: Pattern Pieces (W122230), Perfect Punches (W117022 or C120516)
Cardstock: Regal Rose (108612), Early Espresso (121686), Whisper White (106549)
Ink: Early Espresso (119670), Rose Red (101778)
DSP: Brights Patterns Stack (117155)
Punches: Modern Label (119849)
Other: Basic Pearls (119247)
Non-SU: Stapler
The card base is a 10.5cm square of Regal Rose matted with Early Espresso. The Pattern Pieces were stamped onto Regal Rose DSP with Rose Red ink and cut out. After adhering these to Whisper White card, each piece (that was big enough) was stapled into place. Teeny Pearls were adding above each staple to create the look of pearl-headed pins. Dimensionals were used to pop the layer up on the card front. The sentiment was stamped in Early Espresso ink onto Whisper White card and punched out with the Modern Label before also popping up on dimensionals.
I created a computer printed insert that says:
I'm in pieces over your news!
Pattern Pieces is one of the stamp sets in the current Mini Catalogue which ends on 30 September. Some sets will be available in the new main catalogue but some won't make it through. If you were hoping to get this stamp then I'd go ahead and order it now 😉
Thanks for stopping by.
Sara xx