Finally! The wait is over and we can all drool over the lush new goodies in the brand new Stampin' Up! Idea Book and Catalogue.
Just click on the image below to have a browse (but grab a cuppa first, cos I think you'll be a while, lol) …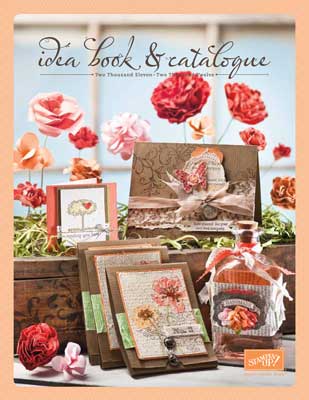 Some of my personal favourite new items include:
this year's in colours (p90) – they're all gorgeous (see here to find out how to get them for free)
lace ribbon border (p116) – a surprising number of ways to use this (I'll be sharing them over the coming weeks)
fabric (p105) – don't think that you have to be able to sew to use this (I've been playing with it for a while and haven't broken out the sewing machine yet)
brushed silver and gold card (p95) – at last (not so blingy as mirror card, more of an elegant style)
antique brads (p109) – perfect for the vintage look
… and there's more. But don't take my word for it. Take a look for yourself.
Want a paper copy to browse through and mark off your wish list? Contact me to find out how to get a free catty.
Want to place an order? Email me and I'll take care of the rest.
Off now to revisit my wish list … again 😉
Sara xx