Hi and welcome to our new catty blog hop. A bunch of us from over at the In Love With Stamping forum have joined together to put on a really mega hop for you today. A big thanks to Laura for organising this.
If you've joined me from Elaine's blog, then thank you for stopping by . If you're starting here then you'll be able to work your way around this mega loop of around 37 blogs (yes you read that right!)  until you get back here. If you get here early then we may possibly have a few glitches with the links but please persevere or pop back later, it will be well worth it and we do get them all ironed out as quickly as we can.
My first project is a card that I designed as a make and take for the hostess appreciation events I held over the last couple of days.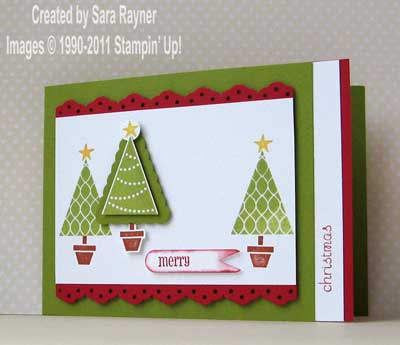 Recipe
Stamp sets: Pennant Parade (W122740 or C122742), Easy Events (W116958 or C123225)
Cardstock: Lucky Limeade (124388), Real Red (106578), Whisper White (106549)
Ink: Cajun Craze (119671), Lucky Limeade (122935), Daffodil Delight (119667), Real Red (103133)
Marker: Real Red (100052)
Punches: Petite Pennants (122361), Eyelet Border (119853), Word Window (119857), Itty Bitty Shapes (118309)
Tools: Stamp-a-ma-jig (101049), Sponge Dauber (102892)
The A6 landscape card of Lucky Limeade (isn't this just a zingy colour!) is cut short on the front right edge and matted with Whisper White (selectively stamped with the Christmas sentiment from Easy Events stamp in Real Red Marker) and Real Red card. Flowerpots, trees  and stars were stamped onto a panel of Whisper White using the Stamp-a-ma-jig for placement and using Cajun Craze, Lucky Limeade and Daffodil Delight inks respectively. Another of each of these was stamped onto Whisper White card and punched (star – Itty Bitty Circle, tree – Petite Pennants) or cut by hand (flower pot). The tree was matted onto the scallop tree punched from Lucky Limeade and all the elements were popped up on the main image with dimensionals. The Merry sentiment from the Pennant Parade set was stamped with Real Red ink onto a scrap of Whisper White card, punched with the Word Window, made into a banner/flag and sponged with Real Red ink before popping up on dimensionals again. Real Red strips were punched with the Eyelet Border and matted top and bottom of the main image before popping up on dimensionals on the card front.
I'll be sharing more Christmas themed ideas soon through my 12 Weeks of Christmas e-mails. If you'd like to receive these, then please sign up for my newsletter using the sign up box at the top of the page.
Next up, another of the little make and takes that we've made at my hostess events.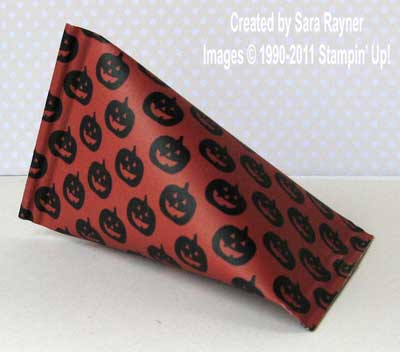 Recipe
DSP: Frightful Sight (122351)
Tools: Crimper (101618)
Over here we seem to call them jubblies, over the pond they call them sour cream containers. This little one has Starburst sweets inside.
If you pop back tomorrow I'll have a tutorial for you for making these.
… and now a brand new project, just for the hop …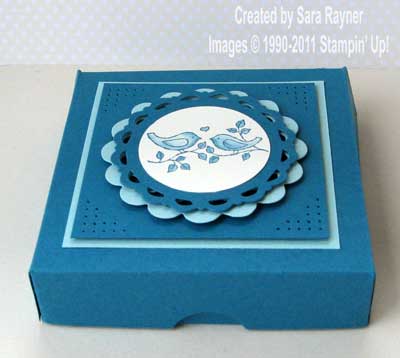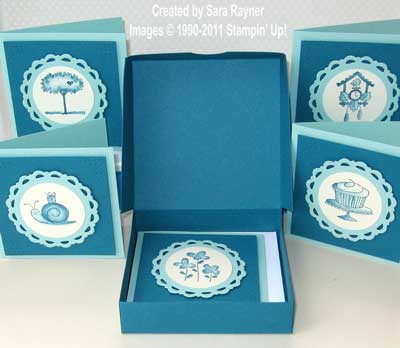 Recipe
Stamp sets: Easy Events (W116958 or C123225)
Cardstock: Island Indigo (124390), Pool Party (124391), Very Vanilla (106550)
Ink: Island Indigo (122937), Blender Pen (102845)
Punches: 1-3/4″ Circle (119850)
Bigz L Die: Perfect Pennants (123126)
Tools: Big Shot (113439), Mat Pack (105826), Paper Piercer (116631)
The cards are all 9cm square of Pool Party, matted with a square of Island Indigo, paper pierced at each corner and popped up on dimensionals. Each image is stamped onto Very Vanilla card with Island Indigo ink and punched out with the 1-3/4″ Circle. A blender pen was used with the same ink to colour the images and then it was adhered direct to the smaller pennant circle die cut from Pool Party card and popped up on dimensionals. A mini pizza box was made to fit the cards and envelopes and decorated in similar fashion but using both pennant circles and an extra square mat in between.
Don't forget to sign up for my newsletter if you'd like to receive my 12 Weeks of Christmas emails and if you'd like to place an order then please email me.
Well thank you for stopping by and now I'll pass you on to the next stop in the hop which is my friend and downline Jan who has an absolutely gorgeous box to show you.
Have a great weekend.