Maybe, lol. Going crackers waiting for my new cracker box. Now this is one of the items that will be arriving in my delivery tomorrow and that I'm just itching to get playing with.
It's a die that cuts a cracker/candy wrapper style box. Why am I so keen on this? Well I made some of these last year for the Christmas table but I did all the scoring and punching manually (you can see the results here on my old blog). This die is going to make it so easy to make them for all the family, for decorating the Christmas tree, for friends – you name it 

I was lucky enough to be rewarded with a little treat inside one of these, for presenting at our regional training, so I just have this one sample at the moment to show you.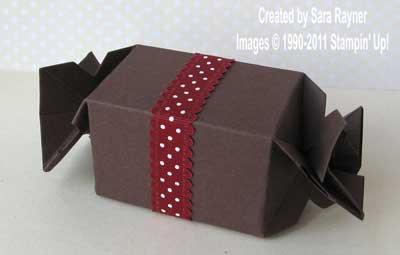 Recipe
Cardstock: Chocolate Chip (108599)
Scallop Dots Ribbon: Cherry Cobbler (124138)
Bigz L Die: Candy Wrapper (120890)
Tools: Big Shot (113439)
The box is die cut using the Big Shot. Precrease along the scored lines. Apply glue along the flap, twist the ends into place and adhere ribbon around it. Done!
Now it's only a dinky size box as you can see here …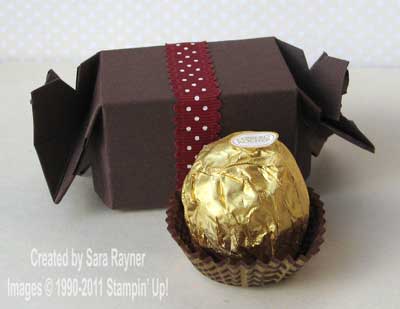 … but I'll show you in an upcoming post, how you can extend it.
Now back to playing with my preorder goodies …
Sara xx