Hope that you're having a great weekend. I'm loving having a bit of time to craft. My neighbour came around to play yesterday and my MIL today – it's such fun!
… but you should see my craft space … so messy! I think I'm going to have to tidy up tonight otherwise I'll never find anything 

Today I've got another no-sew fabric project to share with you. This little purse has been embellished with fabric but there's no need for a sewing machine or needle.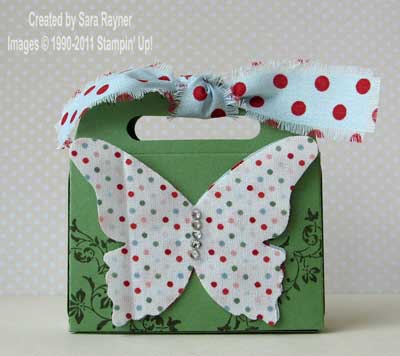 Recipe
Stamp sets: Vintage Vogue (W117690 or C118598)
Cardstock: Wild Wasabi (111850)
Ink: Wild Wasabi (109014)
Designer Fabric: Candy Cane Christmas (121715)
Punches: Word Window (119857)
Bigz Dies: Scallop Envelope (113462), Beautiful Butterflies (114507)
Other: Basic Rhinestones (119246)
Tools: Big Shot (113439)
Two Scallop Envelopes were die cut from Wild Wasabi using the Big Shot and then the base of each envelope was trimmed to the same width/depth as the tabs at the side of the envelope. A Word Window was punched from the top scalloped are of one envelop and then this was used as the template to punch in the same place on the other. One of the envelopes was stamped with the leafy frond from the Vintage Vogue set in Wild Wasabi ink. Two butterflies were die cut from the Candy Cane spotted fabrics using the Big Shot and these were adhered to the front of the stamped envelope using Sticky Strip. A row of Basic Rhinestones were added to the body of the butterfly to finish. The envelope was assembled into a purse by folding and adhering the side and base tabs together. A strip of spotted Candy Cane fabric was frayed along all the edges and used to tie the handles of the purse.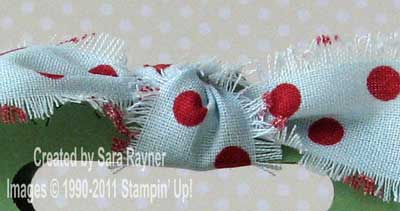 Right – off to get some tidying up done!
See you tomorrow.
Sara xx