Here's another version of the petal cone die box – this time with a slightly different closure for the lid.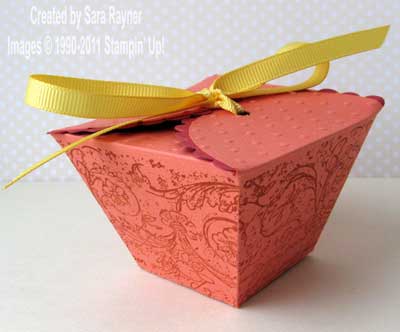 Recipe
Stamp set: Very Vintage (117693)
Cardstock: Calypso Coral (124392), Riding Hood Red (116205)
Ink: Cajun Craze (119671)
1/4″ Grosgrain Ribbon: Daffodil Delight (120928)
Bigz L Die: Petal Cone (121810)
Embossing Folder: Perfect Polka Dots (117335)
Tools: Paper Cutter (106583), Cutting and Scoring Blades (104154), Jumbo Handle (103661), Wheel Guide (104834), Crop-a-dile (108362)
The box was made in the same way I detailed in the tutorial here. After step 4 and with each piece folded in two, the main body of the box was stamped with the Very Vintage wheel using Cajun Craze ink and the lid was run through the Big Shot sandwiched in the Perfect Polka Dots folder (just the semi-circular lid is in the folder the rest hangs out). Two scallop semi-circles were die cut from Red Riding Hood card using the same Petal Cone die and adhered behind the same semi-circular lid on each piece of the box (so that they end up opposite to each other when the box is constructed). The pieces were put one on top of the other, matching and then a large hole punched through them both near the top of the scalloped piece using the Crop-a-dile. Return to step 5 of the tutorial to construct the box. Fold in the non-scalloped lid pieces, thread Daffodil Delight Ribbon through the scalloped lid pieces and tie in a bow to close.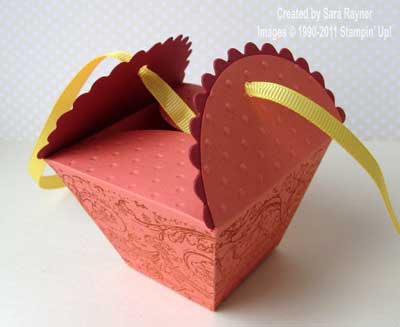 Now back to getting my swaps ready for convention later this week!
Sara xx