Hope you're enjoying your weekend and are better prepared for Christmas than I am at this stage 
We had a quiet day at the craft fair yesterday. It started off very icy and cold though, so my guess is that most folks preferred to do their last weekend of shopping all in one place rather than trek out into the countryside and then back to the other shops. A very big thank you to those of you who did trek and see us, it was great meeting you.
By the time I got home though I was being hit hard by a cold/flu bug and so just wrapped up warm in front of the Strictly Come Dancing final.
I still feel pretty grotty today but it's my Mum and Dad's wedding anniversary and so I needed to make their card and take it over with their gift. It isn't a landmark year for them, but I love using a vanilla and gold combo for wedding anniversary cards and so I just went with the creative flow.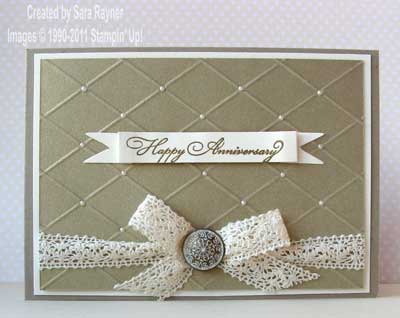 Recipe
Stamp set: Something to Celebrate (retired)
Cardstock: Brushed Gold (124917), Crumb Cake (121685), Very Vanilla (106550)
Ink: Versamark (102283)
Bigz L Die: Petal Cone (121810)
Crochet Trim: Victoria (118481)
Other: Antique Brads (117273), Gold EP (109129), Basic Pearls (119247)
Tools: Paper Cutter (106583), Bone Folder (102300), Mat Pack (105826), Paper Piercing Tool (116631), Heat Tool (110197), Big Shot (113439)
The base card is Crumb Cake matted with Very Vanilla. A mat of Brushed Gold was scored diagonally across in both directions with the Bone Folder and Paper Cutter. Victoria Crochet Trim was wrapped around this layer and a faux bow of the same trim was secured with an Antique Brad. The Petal Cone die was used to cut a banner from Very Vanilla which was stamped with the sentiment in Versamark and heat embossed with Gold EP before folding and adhering to the mat. With the trim and sentiment in place, tiny Basic Pearls were added to any remaining visible points of intersection of the scored lines, ignoring those immediately at the edges of the mat. The embellished mat was then adhered direct to the card front.
Off now to dose up on more lemon and honey 

Sara xx