You'll need a few punches for this little cat, but he's easy to put together.
Punches used:
1-3/8″ Circle
1″ Circle
1/2″ Circle
5-Petal Flower
Owl Builder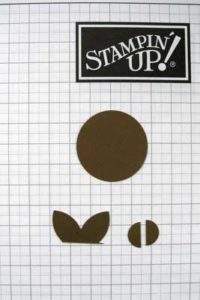 1. From Soft Suede card, punch:
1 x 1-3/8″ Circle (cat's body)
1 x 1/2″ Circle and cut it in two (cat's paws)
1 x 5-Petal Flower, trim off and retain two of the petals (cat's outer ears)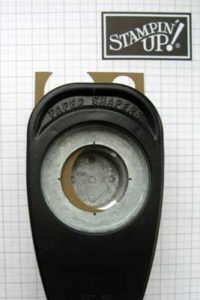 2. Reinsert the card used to punch the 1-3/8″ Circle back into the same punch and punch out a crescent sliver of card for the cat's tail.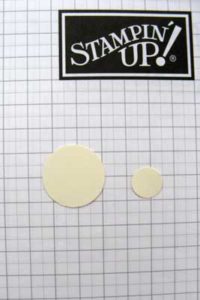 3. From Very Vanilla card, punch:
1 x 1″ Circle (cat's tummy)
1 x 1/2″ Circle (cat's face)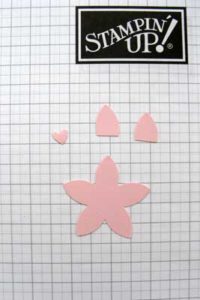 4. From Pink Pirouette card, punch:
1 x Owl's heart (cat's nose)
1 x 5-Petal Flower, trim off and retain two of the petals (cat's inner ears)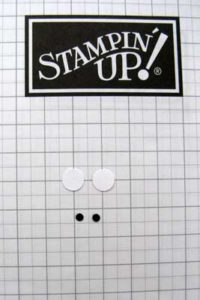 5. From Whisper White card, punch:
2 x Owl's middle size eyes (cat's eyes)
From Basic Black card, punch:
2 x Owl's smallest size eyes (cat's eyes)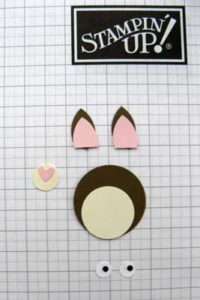 6. Adhere:
the inner ears to the outer ears
the nose to the face
the tummy to the body
the smallest eyes to the middle eyes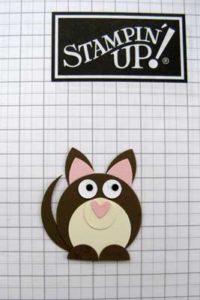 7. Adhere:
the tail behind the base of the body
the ears behind the top of the body
the face to the top of the tummy
the paws to the base of the tummy
the eyes above the tummy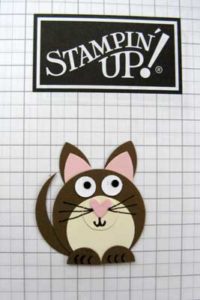 8. Use an Early Espresso marker to draw :
claws on the paws
a mouth below the nose
whiskers