Did you enjoy yesterday's blog hop? Gain lots of inspiration? Got a wish list as long as your arm? 

 Well I can help you out there of course. You're always welcome to place an order with me, but why not book a workshop? That way you can earn hostess pounds and choose free products from either the main or the mini catalogues. Better still – join my team, to get a brilliant discount off all your SU purchases and/or earn extra income to treat your family with. Email me or give me a call on 0775 1133886 to chat about the options.
Meanwhile, I'm back today with the recipes for the sneak peeks I shared previously.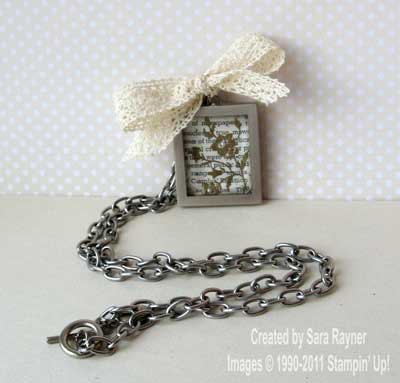 Recipe
Stamp set: Charming (W116519 or 125829)
Ink: Versamark (102283), Soft Suede (115657)
DSP: First Edition Specialty (121878)
Crochet Trim: Victoria (118481)
Other: Simply Adorned Chain (116800), Simply Adorned 2.5 x 3.2 cm Charm (116798), Gold EP (109129), Basic Pearls (119247)
Tools: Heat Tool (110197), Sponge Daubers (102892)
 The delicate flower was stamped in Versamark onto First Edition DSP and heat embossed with Gold EP. Using the template included with the charm, an area was cut out and the edges sponged lightly with Soft Suede ink. Teeny Basic Pearls were used to finish the insert and Victoria Crochet Trim tied around the top of the charm.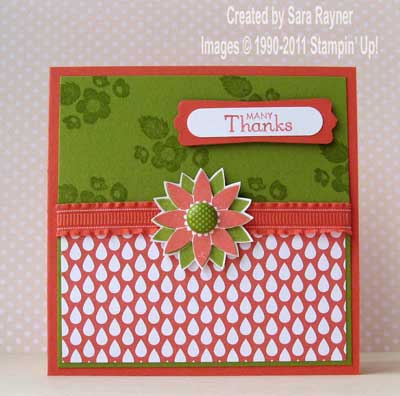 Recipe
Stamp sets: Fruit & Flowers (W122605 or C122607),  Petite Pairs (W122495 or C122497)
Cardstock: Calypso Coral (124392), Lucky Limeade (124388), Whisper White (106549)
Ink: Calypso Coral (122939), Lucky Limeade (122935)
DSP: Berry Blossoms (122350)
Punches: Word Window (119857), Modern Label (119849)
Ruffled Ribbon: Calypso Coral (122976)
Other: Designer Printed Brads (122940)
Tools: Paper-Piercing Tool (116631)
The card base is a small square of Calypso Coral. A smaller square mat of Lucky Limeade was stamped on the top half with the flower and leaf spray in Lucky Limeade ink and Berry Blossoms DSP was adhered to the bottom half. Calypso Coral Ruffled Ribbon was wrapped over the top of the DSP and secured behind the mat. The many petaled flower was stamped onto Whisper White card with both Calypso Coral and Lucky Limeade inks. The full Lucky Limeade flower was cut out and just the inner petals of the Calypso Coral flower. A dimensional was used to join the two together and a Lucky Limeade Brad secured them to the mat before adhering the layers direct to the card front. The bottom half of the many thanks sentiment was stamped in Calypso Coral ink onto Whisper White card and punched out with the Word Window. This was adhered direct to a Modern Label punched from Calypso Coral card and popped up on dimensionals on the card front.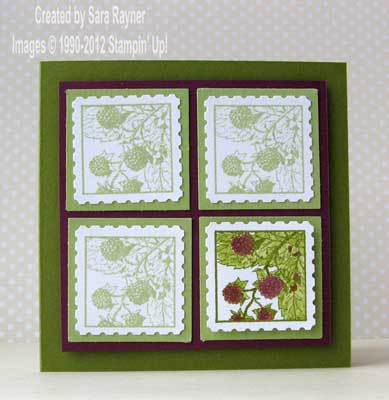 Recipe
Stamp sets: Perfect Postage (W126111 or C126113)
Cardstock: Old Olive (106576), Certainly Celery (108619), Rich Razzleberry (119981), Whisper White (106549)
Ink: Old Olive (102277), Certainly Celery (105217), Rich Razzleberry (115658)
Punches: 1-3/8″ Square (119877), Postage Stamp (122344)
Tools: Blender Pens (102283)
The berry postage stamp was stamped three times in Certainly Celery and once in Old Olive ink onto Whisper White card and punched out with the Postage Stamp. Four 1-3/8″ squares were punched from Certainly Celery card and the Celery stamps were adhered direct to three of them. A blender pen was used to colour the berries and leaves on the Old Olive version which was then popped up on a dimensional on the fourth square. All were then adhered direct to a larger square of Rich Razzleberry (ensuring they face in the same direction) and then popped up on dimensionals on the card front.
Back with another new project tomorrow.
Sara xx