It's not too many more sleeps now until Sale-a-bration, so I thought I'd wet your appetite with a little sneak peek.
This card uses some of the DSP that we'll have within the offer. Yes – you read that right – DSP! In addition to an absolutely gorgeous selection of stamp sets, this year, for the first time, you'll also be able to select a full 12″ x 12″ pack of DSP as part of our fabulous Sale-a-bration. And it's so very pretty. And co-ordinates perfectly with two of the stamp sets on offer. And … am I gushing? Oh dear, well you'll see when Tuesday 24th January rolls around.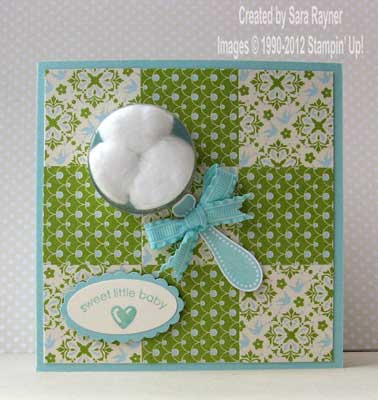 I'll be back with the full recipe for this card once Sale-a-bration has launched but in case you're wondering what this Sale-a-bration is that I'm prattling on about … it's Stampin' Up!'s annual event where customers, hostesses and demonstrators can all qualify for gorgeous free products.
As a customer you'll be able to choose from a range of fabulous, free, exclusive products with every order of £45 or more. And there's no limit to the free sets, so spend £90, get two free, etc.
You'll be very welcome to place an individual order to qualify for your free goodies as soon as Sale-a-bration begins on the 24th of course, but this is the perfect time to have a Stampin' Up! workshop. As a hostess you'll get to choose one of the lovely Sale-a-bration products for hosting a  £300 workshop. That's in addition to the hostess benefits you'd normally get … and your friends will get free products with their qualifying order – win/win!
Now Sale-a-bration will run from Tuesday 24 January through to Saturday 31 March but I've already got 6 workshops lined up, so please email me or call me on 0775 1133886 as soon as you can, if you've got a specific date in mind for your own workshop.
There'll also be extra bonuses for those signing up as a demo. If you'd like to know more, or are ready to sign up, then please email me your telephone number and let me know a convenient time to call and I'll give you a call back.
Sara xx