Happy Birthday Mari if you're reading this!
I'm back with another guest designer to celebrate our family birthday today. DH made this card for Mari with only a little help from me.
He took his inspiration from this card in the current Idea Book and Catalogue but wanted to change it enough to make it his own.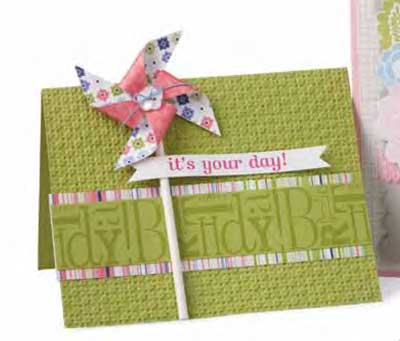 He kept the windmill and birthday stamp but chose his own colour combo and layout and swapped the textured background. Do you still recognise it as the same card?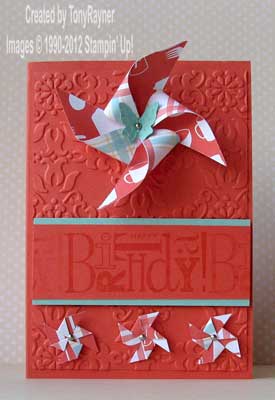 Recipe
Stamp sets: Happiest Birthday Wishes(W122615 or C 122617 hostess)
Cardstock: Calypso Coral (124392), Pool Party (124391)
Ink: Calypso Coral (122939)
DSP: Domestic Goddess (122355)
Embosslits Die: Beautiful Wings (118138)
Textured Embossing Folder: Vintage Wallpaper (120175)
Other: Mini Brads (122941)
Tools: Big Shot (113439), Stamp-a-ma-jig (101049)
The base card is Calypso Coral matted with another layer of Calypso Coral that was run through the Big Shot using the Vintage Wallpaper folder. One large and three small windmills were created from Domestic Goddess DSP by taking a square of paper, cutting from each corner approximately 1/2-2/3 of the way to the centre and either folding or rolling the same edge on each corner into the  centre. The large windmill was topped with a small butterfly, pinned with a Mini Brad and the small ones just had a Mini Brad pushed through the centre. Using a stamp-a-ma-jig the sentiment was stamped in Calypso Coral ink into the centre of a strip of Calypso Coral card. It was repeat stamped on either side of the main sentiment, stamping off first for a paler effect. This was adhered direct to a slightly wider strip of Pool Party card and then to the card front.
Here's the windmill close up.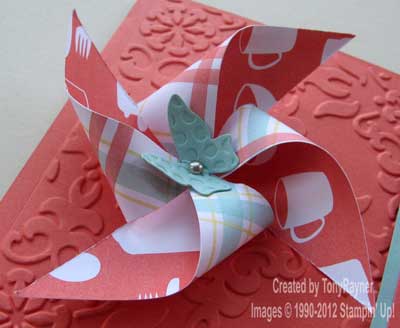 The gift bag that I shared on Saturday was designed to colour co-ordinate with the card.
I'll be back tomorrow with full details of our Sale-a-bration offer!
Sara xx