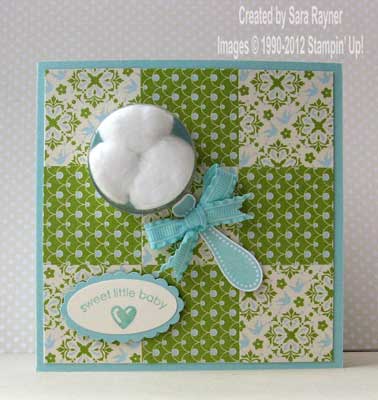 The treat cups are an ingenious way to give a special card and a gift in one. That gift could be low cost/value eg. a few sweets or high cost/value eg. jewellery. Although the simple way of using the treat cups is to remove the liner tape and adhere them direct to your card, this then means that to get into the treat cup, the recipient has to tear the card apart.
A more elegant solution is to create a trapdoor.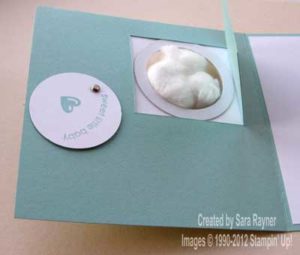 Use the punched shape from the card front layer as a template and mark the aperture in pencil on the card front. Create a square just larger than the aperture, cutting three sides of it and scoring the side closest to the centrefold of the card. Fold along the hinge into the centre of the card.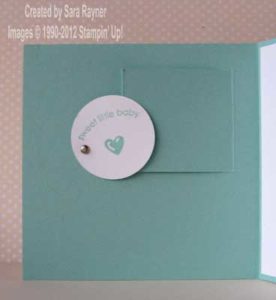 Punch a large shape (the same 1-3/4″ Circle used for the aperture was used here). Secure the shape close to the trapdoor with a brad (before adhering the  card front layer to the card front). To open the trapdoor simply swing the shape to one side. The closer the brad is to the trapdoor, the more snugly the trapdoor will be kept closed. (My brad should have been closer to the trapdoor than it was here).