My guest designer this week (yes, it seems to be becoming a regular feature

) is Mari and she's made a bright, zingy gift bag, guaranteed to chase away the winter blues.
If you're a regular reader then you may know that I made Mari this gift bag at Christmas: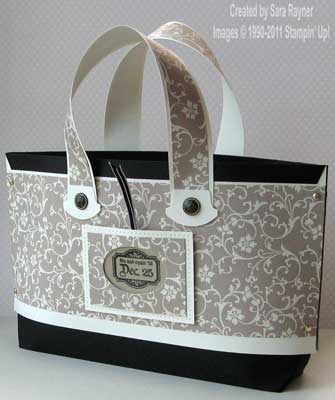 Well she loved it so much that she wanted to make one herself to contain the birthday gift she's giving to her SIL. And being Mari, she wanted to use brighter colours.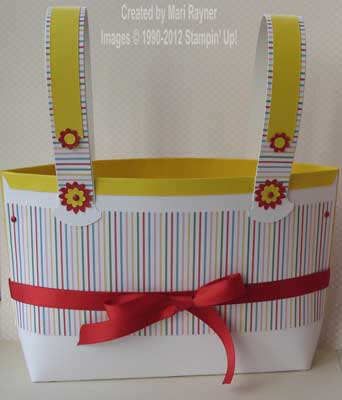 Recipe
Cardstock: Yoyo Yellow (retired), Whisper White (106549)
DSP: Just Add Cake (124339)
Punches: Round Tab (119864), Boho Blossoms (119858), Owl Builder (118074)
Satin Ribbon: Real Red (117286)
Other: Brights Brads (119740)
Tools: Mat Pack (105826), Paper Piercing Tool (116631)
The pattern came from a fabulous US demo, Connie Babbert, and she has a free tutorial and template for it here. It was made as per Connie's instructions using Whisper White and Yoyo Yellow cardstock (now retired but you could use Daffodil Delight for a similar look). Just Add Cake DSP was used to decorate the sides of the bag and Real Red Brads were used to strengthen and secure the sides. The handles were made by matting a strip of Just Add Cake DSP onto some DSP backing card for strength, then decorating the main part with Yoyo Yellow card. They were decorated and attached to the main body of the bag with Boho Blossoms and more Real Red Brads (the centres of the upper flowers are the medium eyes from the Owl punch). The handles swivel to each side to allow access to the bag. It was finished with some Real Red Satin Ribbon.
Isn't it lovely and bright and cheerful?
I'll be back tomorrow with another card.
Sara xx