I'm back with another quick and easy design today, for the next in the series of valentine's day projects. Here I've been busy with the punches again, I love creating apertures with them. And for those asking where I get my Hershey's chocolate from … please keep reading as I have a bit more info for you at the end of this post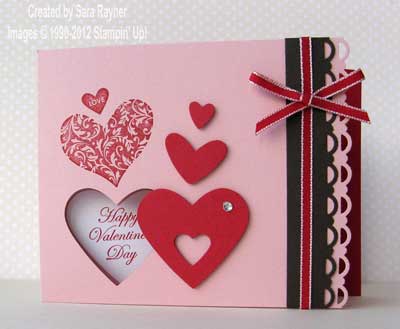 Recipe
Stamp set: I {Heart} Hearts (W117010 or C118571)
Cardstock: Blushing Bride (121690), Real Red (106578), Early Espresso (121686)
Ink: Real Red (103133)
Punches: Full Heart (119883), Heart to Heart (119881), Scallop Trim Border (118402), Small Heart (117193)
1/8″ Taffeta Ribbon: Real Red (119251)
Other: Basic Rhinestones (119246)
The card base is an A6 landscape of Blushing Bride card with a small section of the right hand card front cut off and punched with the Scallop Trim Border and the Full Heart punched from the lower left hand side. The decorative heart and the small love heart were stamped above the aperture in Real Red ink, angled slightly towards the left upper corner. A strip of Early Espresso card was punched with the Scallop Trim Border, wrapped with Real Red narrow Taffeta Ribbon and adhered alongside the already punched border. Using a glue dot, a bow of the same ribbon was adhered to the ribbon on the border. A Small Heart was punched from Real Red card then this aperture was centred within the Full Heart punch and punched again. More hearts were punched from Real Red card with the Heart to Heart punch and these were all popped up on the card front with slivers of dimensionals. A Basic Rhinestone was used to finish the heart within a heart.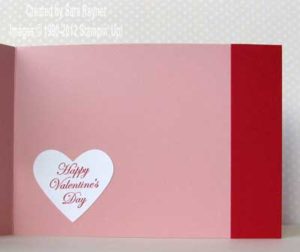 Recipe
Stamp set: Valentine Love (W122695 or C122697)
Cardstock: Real Red (106578), Whisper White (106549)
Ink: Real Red (103133)
Punches: Full Heart
For the inside, a strip of Real Red card was adhered direct to the left inside back. The sentiment was stamped in Real Red ink onto Whisper White card and punched out with the Full Heart. This was adhered direct to the card back placing it through the aperture on the front.
Now, as for the Hershey's chocolate kisses I mentioned yesterday – I get them from my local Asda. I've been shopping again today and took this snap to show what a great range of Hershey's they stock. For those searching, I hope that you have success finding them in your local branch.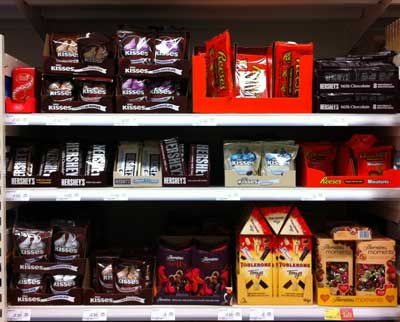 Have a great weekend.
Sara xx