One of my work colleagues is leaving this week, taking early retirement. We've had a collection and have wads of money to give her

 so I  volunteered to make a gift wallet to present it in.
I couldn't resist using some of our gorgeous Specialty DSP and Antique Brads to give it that elegant touch.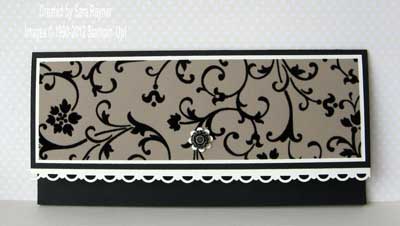 Recipe
Textured Cardstock: Basic Black (121078)
Plain Cardstock: Very Vanilla (106550)
DSP: Mocha Morning Specialty (122366)
Punches: Scallop Trim Border (118402), Word Window (119857), Boho Blossoms (119858)
Other: Antique Brads (117273)
Non-SU: Velcro spot
The Textured Basic Black card for the wallet was folded into three, with the folded size a little larger than the bank notes. A slot for the notes was created by repeat punching with the Word Window punch on the inner fold before adhering it around the edges, to the back of the wallet. A panel of Very Vanilla card was matted with one of the flocked Mocha Morning Specialty DSPs and added to the wallet front. After punching a small flower from Very Vanilla card with the Boho Blossoms, it was secured to the front of the purse with an Antique Brad. The Scallop Trim Border was used to punch a strip of Very Vanilla card which covered the brad and edged the wallet before finishing with a velcro spot fastener.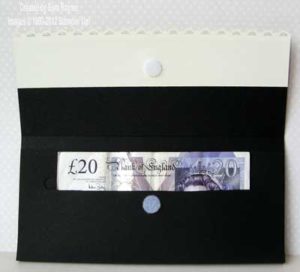 An elegant solution don't you think.
Hope you have a great weekend.
Sara xx