My card today is cased from Andy Warhol, well if you're going to case, you may as well case from the masters 

This design works well with any bold stamp design or punch.
I'll share a little secret with you. The Sprinkled Expressions set is my least favourite of all the Sale-a-bration freebies … in the same way that Cadbury's is my least favourite chocolate! I prefer Fresh Vintage and Galaxy but I'm not going to turn down any my least favourites if they're available.
In fact, it's actually only the sentiment that matches this stamp, that I'll struggle to use. The Congratulations set is perfect for such an occasion and I'd meant to get this set for the Love sentiment for Valentine's, as it's just the right message to send my hubby.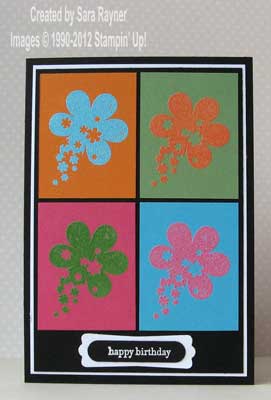 Recipe
Stamp sets: Sprinkled Expressions (W125130 or C125132), Teeny Tiny Wishes (W115370)
Cardstock: Basic Black (121688), Whisper White (106549), Pumpkin Pie (121680), Wild Wasabi (111850), Melon Mambo (119980), Tempting Turquoise (108598)
Ink: Versamark (102283)
Punch: Modern Label (119849), Word Window (119857)
Other: White EP (109132), Tangerine Tango EP (123106), Wild Wasabi EP (123224), Melon Mambo EP (123223), Tempting Turquoise EP (122950)
Tools: Heat Tool (110197), Stamp-a-ma-jig (101049)
The card base is an A6 of Basic Black matted with Whisper White and then more Basic Black. Four panels were cut from Pumpkin Pie, Wild Wasabi, Melon Mambo and Tempting Turquoise. (It should have been Tangerine Tango card but I forgot that it was Tangerine embossing powder – I think I just about got away with it.) The Stamp-a-ma-jig was used to position the flower in the same place on each panel using Versamark ink. Each was heat embossed with a different colour and adhered direct to the card front. The sentiment was stamped in Versamark ink onto Basic Black card, heat embossed with White EP and punched out with the Word Window. This was adhered direct to a Modern Label punched from Whisper White card and then to the card front.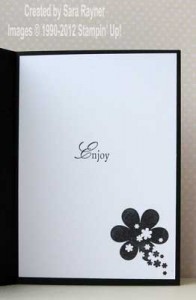 Recipe
Stamp sets: Sprinkled Expressions (W125130 or C125132), You're a Gem (W122268 or C122270)
Cardstock: Whisper White (106549)
Ink: Basic Black (101179)
Tools: Stamp-a-ma-jig (101049)
The flower was also stamped in Basic Black ink onto the Whisper White card insert and the sentiment stamped in the same ink.
Thanks for stopping by.
Sara xx