I've been really busy (in a very good way!) for the last week and a half, delivering workshops, signing up new team members and supporting existing ones, so I enjoyed a little change of pace today. I've made (for me) a relatively clean and simple card.
The card used is a bit more unusual though, it's Confetti Cream – a vanilla card embedded  with small speckles of coloured card – very pretty. One of my recent recruits wanted to try it out but didn't really want a full pack and so we agreed to do a swap. She ordered the Confetti Cream as part of her Starter Kit and I had half of the pack and gave her half a pack of plain Very Vanilla in exchange. Win-win! And just one of the ways that I can help make an already tailored starter kit, even more tailored to suit you perfectly.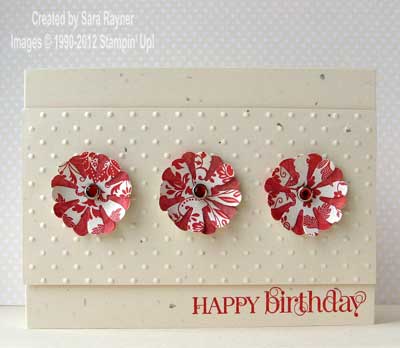 Recipe
Stamp sets: Curly Cute (W117014 or C120510)
Cardstock: Confetti Cream (106558)
Ink: Poppy Parade (119782)
DSP: Everyday Enchantment (126154) (Free Sale-a-bration product with £45 spend)
Originals Dies: Blossom Party (115971)
Embossing Folder: Perfect Polka Dots (117335)
Other: Circle Fire Brads (109110)
Tools: Big Shot (113439), Bone Folder (102300)
The card base is Confetti Cream and a large mat of the same card was run through the Big Shot using the Perfect Polka Dots Embossing Folder. Three small flowers were die cut from two contrasting sheets of the Everyday Enchantment DSP with the Blossom Party die and the petals shaped over a bone folder before adhering them together. A small red Circle Fire Brad was used to secure each of them to the textured mat. The sentiment was stamped in Poppy Parade ink across the bottom right of the card front and then the textured mat was popped up on dimensionals across the centre.
If you'd like to know more about the Starter Kit and how it can be tailored to suit you, then please email me or give me a call on 0775 1133886 and I'll talk you through it.
Enjoy the rest of your weekend.
Sara xx