Today's project is a cute little box of chocs to match the card I shared in the March newsletter. Haven't seen the card? Don't get my newsletter yet? Why not give it a try.
We send out two issues each month and they each have an exclusive project that I don't share anywhere else. In addition to the exclusive projects, there are also techniques, tips, offers and news of classes. To sign up for it now, just fill in the sign-up box on the right and you'll receive the mid March newsletter it your mailbox, when it goes out.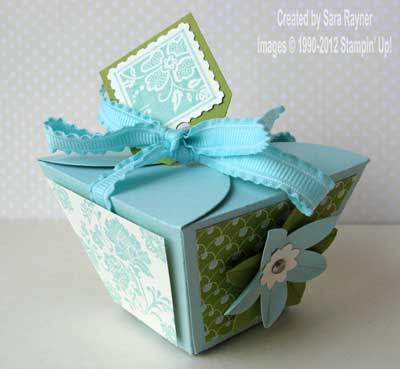 Recipe
Stamp set: Fresh Vintage (W125115 or C125117)
Cardstock: Pool Party (124391), Lucky Limeade (124388), Very Vanilla (106550)
Ink: Pool Party (122938)
DSP: Everyday Enchantment (126154)
Punches: Postage Stamp (122344), Extra-Large Tag (119866), 5-Petal Flower (119880), Boho Blossoms (119858)
Ruffled Ribbon: Pool Party (122975)
Bigz L Die: Petal Cone (121810)
Other: Silver Brads (104336)
Tools: Big Shot (113439), Crop-a-dile (108362)
The box was made using the tutorial I shared here and the base was die cut from Pool Party card using the Petal Cone die and the Big Shot. Everyday Enchantment DSP panels were adhered direct to two opposite sides of the box before it was assembled. Pool Party Ribbon was adhered to the base of the box and wrapped over the sides that had no DSP. Two Very Vanilla panels were stamped with the large and tiny flowers from the Fresh Vintage set using Pool Party ink. The panels were then popped up on dimensionals over the top of the ribbon. The square design was stamped in Pool Party ink onto Very Vanilla card and punched with the Postage Stamp. This was matted onto an Extra-Large Tag punched from Lucky Limeade card and a plain Very Vanilla Postage Stamp was adhered to the other side for writing on. The tag was punched with the Crop-a-dile and threaded onto the ribbon, before filling the box with chocs and tying it closed with a bow. Finally, flowers were created by punching and shaping  the 5-Petal Flower from Lucky Limeade and Pool Party card, adding the smallest Boho Blossoms  flower in Very Vanilla card to the centre, securing them all with a Silver Brad and popping the completed flower up on a dimensional on the DSP covered sides of the box.
Sara xx