A Happy Mother's Day to all moms reading. I hope that you've been well spoiled and treated like a queen today.
I've spent the day at the craft fair (Hi to those of you who stopped by) and it's a quick post before I pop out to take this card over to my own Mum and spoil her as she should be.
As always, I aimed to make something extra special for my Mum for Mother's Day. I've bought Mum quite a few orchids over the years, they're flourishing really well and so I decided to try to replicate them in card form.
I don't think I've got them quite right yet (these perhaps look a little more like irises than orchids) but I think they still make quite a stunning display. I really hope she likes them.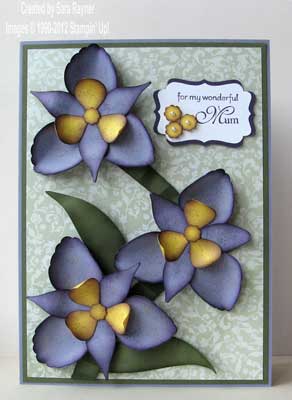 Recipe
Stamp sets: Delightful Dozen (W122650 or C122652), For My Family (W124403 or C124405)
Cardstock: Wisteria Wonder (124389), Always Artichoke (108610), Daffodil Delight (121680), Elegant Eggplant (108614), Whisper White (106549)
Ink: Elegant Eggplant (105210), Always Artichoke (105219)
Markers: Regals (119701)
DSP: Paisley Petals (122367)
Punches:  Blossoms Petal Builder (121808), 1-1/4″ Circle (119861), Decorative Label (120907), Itty Bitty Shapes (118309)
Originals Die: Leaves 2 (113459)
Other: Basic Pearls (119247)
Tools: Big Shot (113439), Sponge Daubers (102892), Bone Folder (102300), Color Spritzer Tool (107066), Stamp-a-ma-jig (101049)
The card base is an A5 portrait of Wisteria Wonder, matted with Always Artichoke card and Paisley Petals DSP. For each Orchid three of the largest, scalloped petals  and three of the large smooth petals were punched from Wisteria Wonder card with the Blossoms Petal Builder. Three more small, wide smooth petals were punched from Daffodil Delight card with the same punch. All the petals were sponged around the edges with Elegant Eggplant ink and spritzed with the same ink. The largest petals were also spritzed with Always Artichoke ink. All the petals were shaped using the bone folder and then adhered to a 1-1/4″ Circle punched from Wisteria Wonder card. A tiny flower was punched from Daffodil Delight card with the Itty Bitty 8-petaled flower, sponged around the edges with the Elegant Eggplant ink and adhered to the centre of the flower. Orchid stems were cut freehand from Always Artichoke card and the edges and distinctive stripes were sponged with matching ink. The stems and flowers were popped up on the card front with dimensionals. A couple of long leaves were die cut from Always Artichoke card with the Leaves 2, the edges were sponged, the leaves shaped and then adhered behind the flowers. For the sentiment I mixed a couple of different sets as I call my Mum, Mum not Mother. To mix the two, I selectively inked the text with an Elegant Eggplant Marker and used the Stamp-a-ma-jig to position the text on some Whisper White card before punching out with the Decorative Label. Another Decorative Label punched from Elegant Eggplant card was cut in four and adhered behind the stamped sentiment to create a frame. Three more Itty Bitty flowers were punched from Daffodil Delight card, sponged with Elegant Eggplant ink and popped up on slivers of dimensionals on the sentiment. Tiny Pearls were added to the centre of each flower and then the sentiment was popped up on more dimensionals on the card front.
I'll be back tomorrow with a guest designer, as my hubby shares the card that he made for his Mum. And believe me, it's quite a different style to mine!
Enjoy the rest of your day.
Sara xx