I've been using my Scoring Tool again today to make this really quick and easy box. Ideal for a small set of notelets and envelopes or for a few chocs.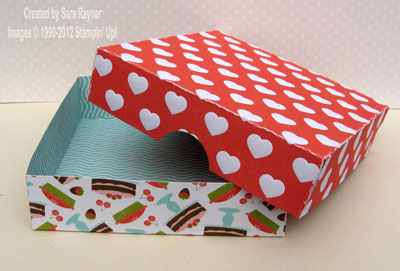 Recipe
DSP: Sweet Shop (125408)
Punches: 1″ Circle (119868)
Tools:  Simply Scored Scoring Tool (122334)
Being a good Yorkshire lass and not liking any waste

, I cut both sheets of Sweet Shop DSP to 6″ x 6″ and scored at 1″ from all four edges on both sheets. The 1″ Circle punch was used to punch a semi-circle mid way along opposite edges of the box lid. I snipped the corners of both the lid and the base and folded them in and adhered them, tucking just a little tighter on the box base so that the lid fits (snugly) over the top.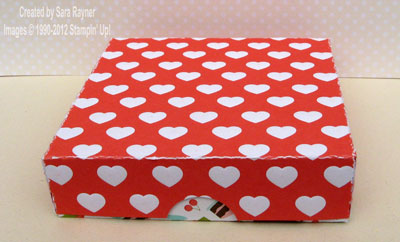 The Scoring Tool is just perfect for making boxes of all sizes.
Sara xx