Sorry – I started writing this post yesterday and then realised I needed to finish making the thank you cards for the workshop I was delivering in the evening (so my hostess has them ready to give with everyone's orders) and then I didn't get time to come back to it.
Better late than never, I hope.
This was our make and take card last night, a tiny bit challenging, but both the experienced and new crafters got great results.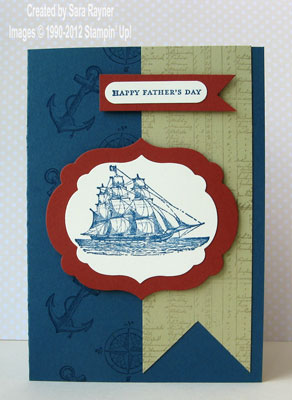 The colour combo was "stolen" from the Well Worn DSP (Not Quite Navy, River Rock, Cajun Craze, Crumb Cake (ink)). I often use the papers as inspiration for colour combos as SU! have already done the hard thinking for me

We used the Open Sea stamp set (W123030 or C123032) along with Teeny Tiny Wishes (W115370) on the outside (everyone could choose their sentiment, so some made it a birthday card instead of Father's Day card). To create some interest in the background, the Not Quite Navy card base was stamped with the anchor and compass in matching ink. The River Rock strip down the side needs to be stamped twice to cover the length but any overlap pretty much gets covered up by the main image (or you could use the Stamp-a-ma-jig (101049) for perfect placement). The 1-3/8″ Square punch (119877) was used to create the tails in the banner and the sentiment flag was hand cut. Two different sizes of Labels Collection framelits (125598) were used to cut and mat the main ship image.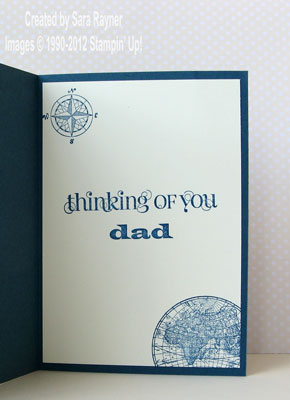 For the inside the globe was stamped off one corner and the compass on the opposite one. Everyone chose their own sentiments.
Due to the great offer on during June and July, our hostess last night qualified for a whopping £95 in free spend! (She did kindly share this bounty with another group who'd put a very large order through her – I think both the Textiles group and the Brownies will be well set for the next few months

.)
Do you work/play with group that needs a constant source of projects to keep them learning and entertained? Perhaps you have out of school groups planned for the long summer holidays? Why not hold a workshop, real or virtual (virtual just means that you collect/place the order without having a get together, but still get the hostess benefits if the order total is over £150)? You get to order supplies needed for the group, inspiration for using those supplies and get freebies for them all at the same time! If you're interested and would like ideas for projects (not just making cards but other items using card, paper, material and ribbon), then please email me or give me a call on 0775 1133886.
Love the Open Sea card? Our online Open Sea class has more great ideas for using this stamp set and is only £3 for lifetime access.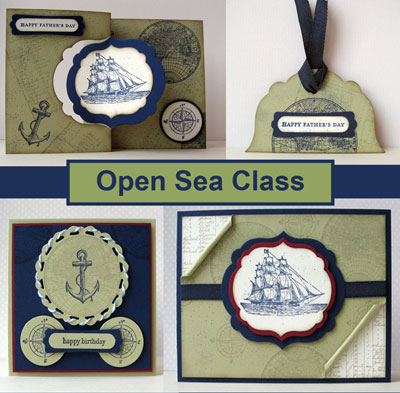 Have a great weekend.
Sara xx