I'm loving the Buy 3, Get 1 Free offer that's running this month – it's such a great excuse to actually use some of those papers that I've been hoarding and stroking for all these months 

I made this little box to give as a door prize at a recent workshop.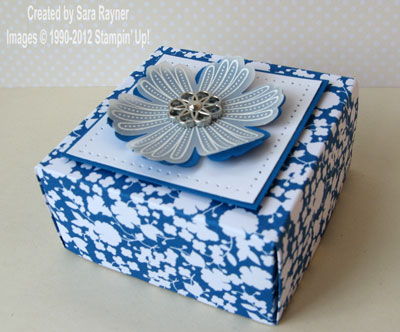 It uses Beyond the Garden DSP (122342) and is topped off with another Mixed Bunch (W125535 or C125537)/Blossom punch (125603) combo. In the centre is a Filigree Designer Brad (112577).
This size box can hold 4 Ferrero Rocher choccies. With these treats, I'm really spoiling my ladies, heehee.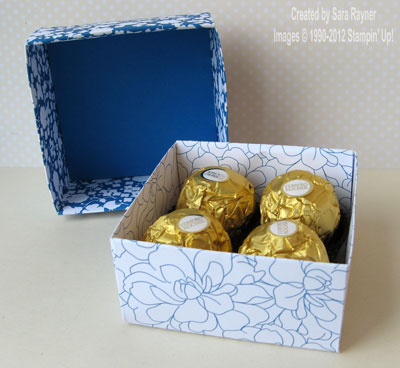 Think you've seen the pattern on the box lid somewhere else? You may have. This one from the Beyond the Garden pack is Pacific Point, but there's a very similar pattern in Island Indigo, in the Twitterpated set of papers. Both of these sets of papers are in the Paper Party offer.
There's less than two weeks left to get your free paper so if I can help you with an order, then please email me or give me a call on 0775 1133886.
Sara xx