If you're a regular reader of my blog then you'll already know that I so loved the swaps that I got at Team Training last month (part 1, part 2) that I'm determined to CASE them all (that's Copy And Share Everything).
The first CASE was here and today I'm going to CASE Hazel's card below, which she also demonstrated to us all, exactly so that we could go home and duplicate it as I'm doing here (it was a great demonstration Hazel – very clear to follow).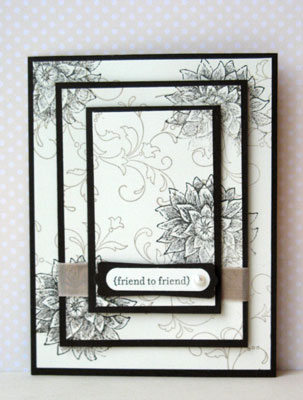 Hazel's colour combo is very elegant and I can't improve on it, but I didn't want to do an exact copy of her card and so I decided to introduce a bit of colour to my version. I also added heat embossing for the white flowers.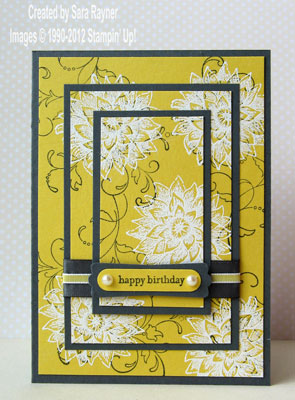 I used exactly  the same stamp sets – Creative Elements (W122645 or C122647) and Teeny Tiny Wishes (W115370). The cardstock is Basic Gray and Daffodil Delight and I stamped with Basic Gray ink and with Versamark (102283) which I then heat embossed with White EP (109132). I layered up Basic Gray Satin Ribbon (124326) and Daffodil Delight 1/8″ Taffeta Ribbon (119254) to sit behind my sentiment.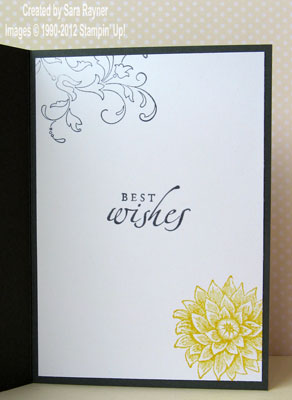 For the inside I stamped the sentiment (from Sincere Salutations (W105156)) and the swirl with Basic Gray ink and the flower again, but this time with Daffodil Delight ink.
Fantastic inspiration and a great demonstration Hazel!
I love this style of card and plan to use it again in the future.
Have a great weekend everyone.
Update – Please note that the Oxspring Open Gardens has had to be cancelled due to the heavy rain and flooding.
Sara xx