Today hasn't quite gone to plan. We should have been raising money today for :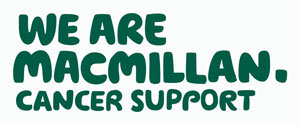 through our Oxspring Open Gardens. The dreadful rain and flooding that we had on Friday though (a month's worth of rain in a single day), resulted in the event being rescheduled.  Hopefully I got the word out in time and no-one had a wasted journey.
We have now got a new date – we'll be going ahead on Sunday 26 August, so I'll pop another reminder on my blog nearer the time.
Another cancellation that we've had, is the Langsett Barn Craft Fairs. These have now been cancelled until the Autumn. I've withdrawn the dates from my Calendar and I'll add them back in once the Autumn season is confirmed.
For now, I've got a project from a guest crafter to share with you. My friend and downline (and MIL), Mari made this stepper box. It's the same design as I made here.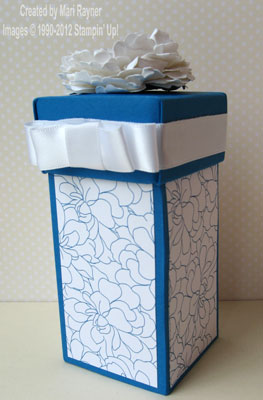 Mari's version  uses the same Beyond the Garden DSP (122342), this time teamed with Pacific Point card.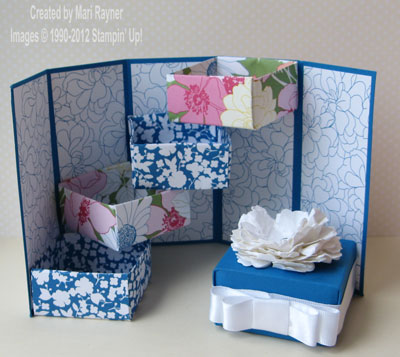 Whisper White Satin Ribbon (114616) was used to decorate the lid of the box and the same Blossom punch (125603) was used, but this time, creating more of a carnation effect, by following the tutorial I posted here and using about 7-8 Blossoms.
Hope your weekend hasn't been too much of a washout.
Sara xx