The thin, sheer, organdy ribbon from the Everyday Ribbon and Brad Pack (our July offer and free with a £45 purchase), is perfect for threading through small holes, such as those of our Perfect Pennant medallions (123126).  Here, I've used it to create a frame for one of the Easy Events images (W116958 or C123225).
I didn't want the background to compete with the small image, but didn't want it to be too plain and stark either and so I ran it through the Vintage Wallpaper embossing folder (120175).
One of the free brads was used to capture some loops of the same ribbon, creating a faux triple bow at the base of the image.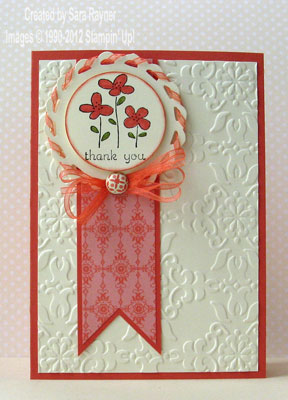 After creating the card I wasn't entirely happy with it and so I went back and added some Dazzling Diamonds glitter (102023) over the flowers to give a bit of bling 

 What do you think? Do you prefer plain or dazzling?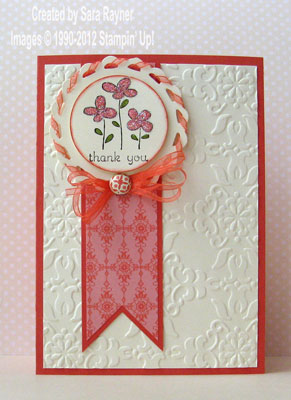 Don't forget, when you get the Everyday Ribbon and Brad Pack you get this ribbon in both Calypso Coral and Lucky Limeade, together with 30 Printed Designer Brads – all for just spending £45 on Stampin' Up! goodies (which I have to admit, I find very easy to do, lol). To place an order and get this pack, just drop me an email or give me a call on 0775 1133886.
Have a great weekend everyone and see some of you at class tomorrow 

Sara xx