Today is my wonderful hubby's birthday … and he's still suffering, the poor love. He's had a chest infection for nearly three weeks now and is still feeling grotty so we're going to hold off the main birthday celebrations until he's feeling well enough to enjoy them properly.
Of course, that doesn't mean holding off on his card.
'My bad?! I actually only started this at 9pm last night. Poor hubby, he was a little low down on my crafting to do list. At least I did get it finished in time for his birthday!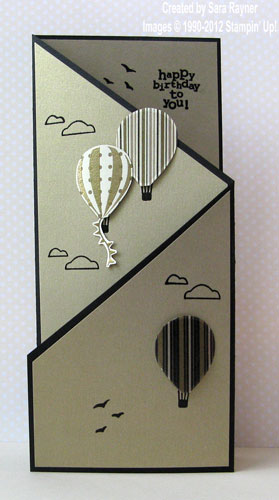 The Up, Up and Away stamp set (W122755 or C122757) was given a more sophisticated look by using a black, vanilla and gold colour combo and the Mocha Morning Specialty DSP. The card base is a piece of black A4 folded into three and trimmed on a diagonal, I'm sure that there's a name for this card but I can't think of it right now, lol. Each forward facing fold was matted with Brushed Gold. The hot air ballon baskets, the clouds, the birds and the sentiment were stamped in Versamark ink (102283) and then heat embossed with Black EP (109133). Two solid balloons were stamped onto Mocha Morning Specialty DSP (122366), again with Versamark ink, heat embossed with Vanilla EP (125590 – this gives a clear gloss to the image, that smells nice

), strengthened by adhering onto Very Vanilla card and cut out. A stripy balloon was stamped onto more Mocha Morning Specialty DSP, heat embossed this time with Gold EP (109129) and strengthened and cut out again. A tiny flag trail was heat embossed in Gold EP on Very Vanilla card and adhered behind the Gold balloon. All the balloons were popped up on dimensionals.
A Very Vanilla insert was stamped and heat embossed with a combination of Black and Gold EPs.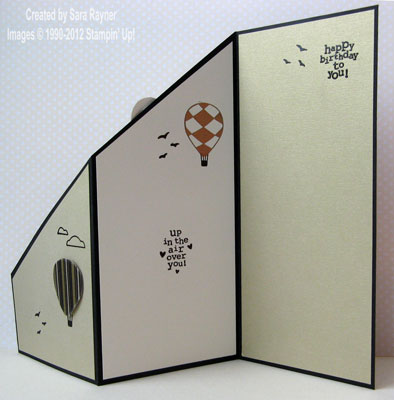 Right, off to molly-coddle him a bit now.
Sara xx