This card came about because I was having a chat last night with a soon to be hostess. We were discussing the type of projects that we might do at her workshop and she explained that one of the guests loves punches but doesn't do much, if any, stamping.
We won't actually be making this card at the workshop (I've got a few other ideas in the pipeline and I like it to be a surprise) but I thought it might be a neat challenge, to prepare a suitable sample to show our guest. The single bit of stamping on here is using the Oval All (W113790). For the punches, I used the Dotted Scallop Ribbon Border (119275) to edge the main panel, the 5-Petal Flower (119880) and Boho Blossoms (119858) for the flowers and the Scallop Oval (119856) and Large Oval (119855) for the sentiment.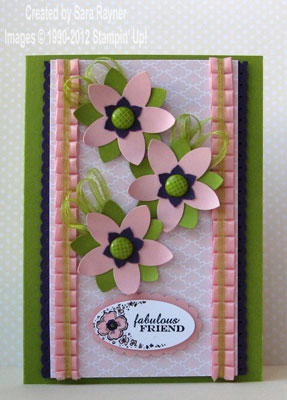 Twitterpated DSP (125406) was used for the background and Blushing Bride Pleated Satin Ribbon (125570) to frame the central panel.
This month's special offer ribbon and brads (free with a £45 purchase) were used to finish off the flowers and ribbon borders (I love layering ribbons together for a really lush look).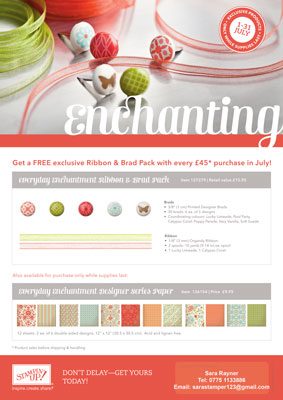 Don't forget that there's only another week left to get hold of these gorgeous ribbons and brads. They've certainly been popular with my customers this month. If you'd like to place an order and get hold of these lovely freebies then please email me or give me a call on 0775 1133886.
Sara xx