Another CASE from my team swaps today.
And this one is Andrea's scrumptious muffin basket.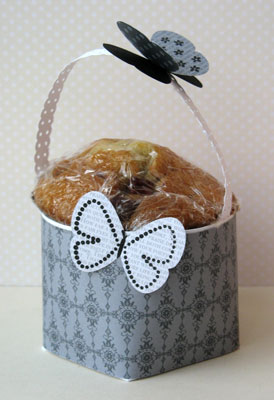 I decided to make mine a teeny bit smaller to fit a cupcake (not that I've got around to making the cupcake yet

 but I've put a cupcake case inside to give you the general idea). And I couldn't resist using the Sweet Shop Specialty DSP (125408) to cover it.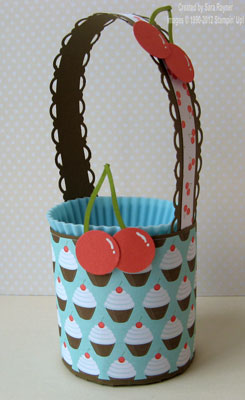 The basket base is made of Soft Suede card and uses the largest circle from the Circles 2 die (114526), then a band of card (I should have made this a little less deep) was snipped all along the bottom edge so that it could be curved around and adhered to the circular base. Another circle was then added inside the basket to cover the snipped edges and tidy it up. The handle was punched with the Scallop Trim Border (118402) and decorated with more of the Sweet Shop DSP. Calypso Coral card was punched with the 3/4″ Circle (119873) to make the cherries and the leaves from the Bird Builder punch (117191) were trimmed to create the stalks.
If you'd like me to do a tutorial on how to make the basket, then please drop me a comment to let me know.
Have a great weekend.
Sara xx