Oh dear, well today was something of a washout. A very big thank you to those of you that attended our Open Gardens event to raise funds for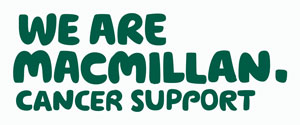 but we had a much lower turn out than previous years. I can't really blame folks, it rained pretty hard, I was glad to be sheltering in the garage! I'll let you know how much we raised once all the figures have been tallied.
For now, today's card is the one that most of my customers in August have been receiving with their orders (just a few customers received different ones whilst I was deciding on a design at the beginning of the month).
These cards use the Reason to Smile stamp set that is still currently available FREE with a £60 purchase but there is less than a week left to get hold of it.
I made two slightly different versions of the card. Both are edged with the Dotted Scallop Ribbon Border punch (119275) and the mat is cut and textured with the Adorning Accents Edgelits Die (125595) and Adorning Accents Embossing Folder (125601). Where they differ, is the colouring of the flowers; this one was coloured with markers.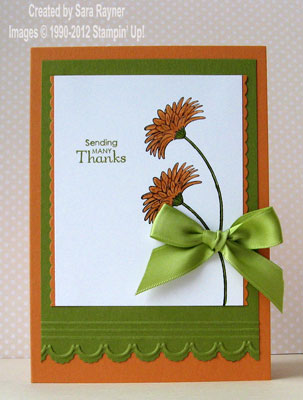 For this one the flowers were coloured by using two-step stamping, stamping over the outline profile flower with the fill profile flower and using the Stamp-a-ma-jig (101049) to place the flower heads.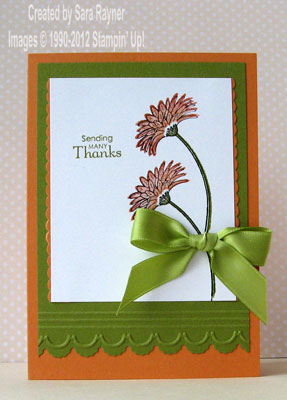 Both were finished with some Certainly Celery Satin ribbon (117288).
Hope that we all get better weather tomorrow than we had today (even though it's not forecast to be good).
Sara xx