Yesterday evening went to plan and I got chance for a little relaxing crafting time – just what I needed after such a busy week and weekend!
And I wish we had smell-o-vision blogs heehee, because this vanilla cupcake really does smell of vanilla, thanks to the embossing powder.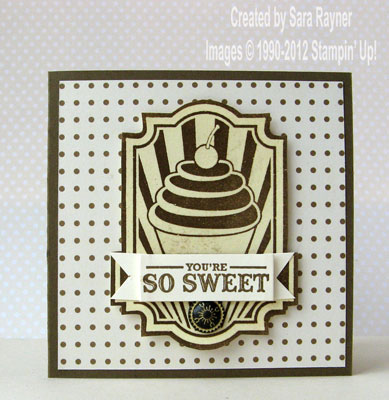 The card base is a small square of Soft Suede. This was matted with some Mocha Morning Specialty DSP (122366). The cupcake from the Sweet Cake stamp set (W125490 or C125492) was stamped with Versamark ink (102283), heat embossed with the Vanilla EP (125590) and then brayered over with Soft Suede ink and buffed up with a paper towel. After cutting out the cupcake by hand, an Antique Brad (117273) was added over the heart and the image popped up on dimensionals on the card front. The sentiment was stamped onto a strip of Very Vanilla card using Soft Suede ink, shaped into a banner and popped up below the cupcake.
It really does smell sweet!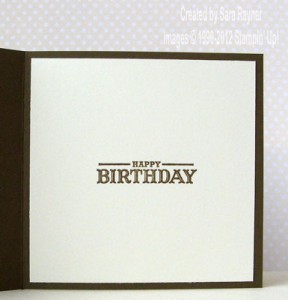 For the inside, the birthday sentiment was stamped in Soft Suede ink.
I really love the font they've used to create these sentiments. Wish we had a full set of them, perhaps I'll have to suggest it.
Thanks for stopping by.
Sara xx