This little Pillow Box is now Sold Out – so sorry if you missed out and well done to you if you managed to grab it at a discount.
Our retiring items are selling out very fast so you need to place your orders (just email me) as soon as possible to be sure of getting your favourites!
Today's highly stylised Father Christmas box is just soooo easy.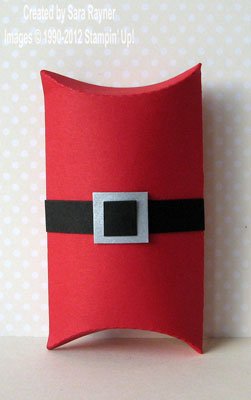 This time the Pillow Box (113466) was die cut from Real Red card and adhered along the tab on the side so that it sits closed flat. A strip of Basic Black card was adhered across the centre, a small square of Brushed Silver card adhered in the centre of that and finally a smaller square snipped from the original strip adhered in the centre of that.
Done! Easy peasy!
Sara xx