A quick change of pace today, away from the all the Halloween and Christmas projects.
One of the brand new and very different products from the Autumn/Winter catalogue, is the Season of Sweets Designer Kit. This kit contains enough materials to package 12 cookies (or similarly shaped treats).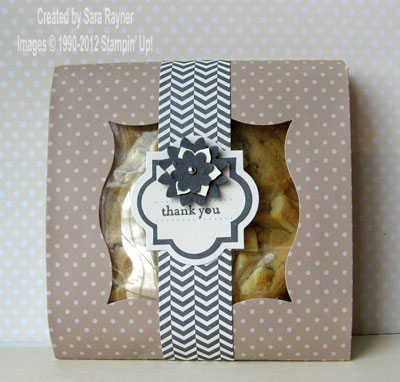 There are 12 food-safe bags for the cookies to go in, these then sit behind the clear window in the designer treat envelopes (6 spotted and 6 striped). Cardstock sticker wraps, labels and holly embellishments complete the gift presentation.
I wanted to gift this now though, rather than at Christmas and so instead of the holly embellishments, I used the Boho Blossoms punch to create a small flower embellishment.
Now this kit is the perfect package for wrapping up homemade cookies finished with the Sweet Pressed Cookie Stamps but … sssh 

– you can also cheat! I bought some top range supermarket cookies and gift wrapped one of them as my thank you to a friend.
Have a great weekend.
Sara xx