I've decided to share today's project before the Very Vanilla Satin Ribbon (117291) and Certainly Celery Satin Ribbon (117288) sells out – as far as I can see they're still available at the moment but for how much longer is anyone's guess 

I made a few of these ribbon flowers for my Mum's birthday card last month and had a couple left over which I figured I'd be able to put to good use and I was right.
A neighbour did a favour for me recently and so I wanted to say thank you with a bottle of wine and so made this little bottle hanger for the sentiment.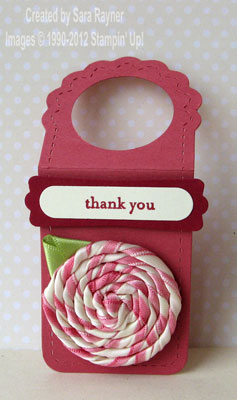 The tag base is the smaller tag from the Two Tags die cut from the new In Color, Primrose Petals. A 1-1/4″ Circle (119861) was punched from the centre of the scalloped end of the tag. A length of the Very Vanilla Satin Ribbon was coloured along each edge with a Melon Mambo marker (simply drawing the marker on the ribbon) and the ribbon was twisted and adhered to a Circles 2 (114526) small circle, die cut from scrap card topped with Sticky Sheet (114300).
The Sticky Sheet is also retiring though still available at the moment however the Autumn/Winter catalogue has Jumbo Sticky Rounds (127852) that you could use as an alternative. If you don't want a flower as large as the rounds, then simply fold over any excess to the back of the circle when you've reached the desired size. Certainly Celery Satin Ribbon was looped and adhered behind the flower to form a leaf, before popping up on dimensionals on the lower part of the hanger.
Teeny Tiny Wishes (W115370) was used to stamp the sentiment in Raspberry Ripple ink (another new In Color) onto Very Vanilla card before punching out with the Word Window punch (119857) and matting onto a Modern Label (119849) punched from Raspberry Ripple card. This sentiment was popped up on dimensionals on the front of the hanger, above the flower.
Here's the hanger on the bottle.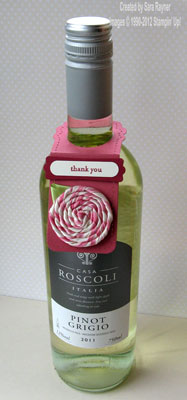 Thanks for stopping by.
Sara xx