Just a few more sleeps now until the new catty launches woohoo!
I'm having a special event next weekend for my previous hostesses, where I'll share lots of the new products, there'll be special little treats for them and of course we'll be doing some crafting! This sneak peek from the new catty is the invite that I sent to them.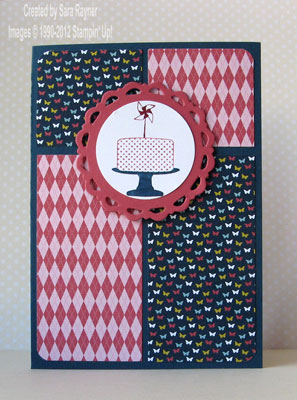 I'm not allowed to share the recipe until the new catty launches 

 – though I can mention that the medallion in the centre is from the existing Perfect Pennants die (123126) and I've used Midnight Muse and Raspberry Ripple from the new In Colors. More on the stamps and the papers on Monday!
If you'd like to get a free copy of the new catalogue and an invite to my next hostess appreciation event then please email me to book your workshop.
Sara xx