One product that came new to Stampin' Up! in the Autumn/Winter catalogue was the Core'dinations cardstock. This cardstock is textured on one side, almost smooth on the other, with a light coloured core in between. You can reveal the light coloured core by sanding, tearing or distressing or you can keep the full colour intensity by simply using as a textured cardstock.
There are twelve 12″ x 12″ sheets to a pack and they are available in single colour packs of:
Cherry Cobbler (127846);
Early Espresso (127848); or
Gumball Green (127847).
If you'd like a selection of colours then why not get together with friends to share a pack of each, or email me to see whether I have a share ongoing.
Please note that these card stocks are only available while the Autumn/Winter catalogue is current so you'll only have until 31 January 2013 to get hold of them!
Here are a few tips to get the most from this card in combination with embossing folders.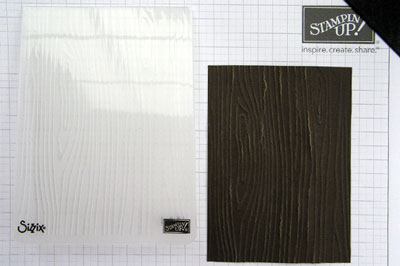 When using the card in an embossing folder that has straight (or almost straight) lines you will find that you get some cracking of the card along the grain. This is perfectly normal. You can use the card exactly as it is or …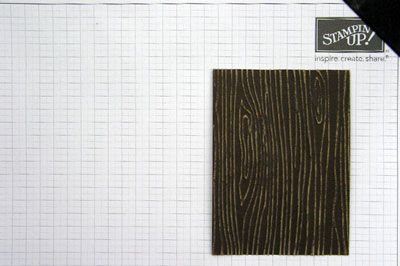 … you can sand over the top of the embossing to reveal the  light core. This masks the cracking and makes the texture more prominent. This folder is the Woodgrain (127821) and you can see the owl card here for an example of this combo in use.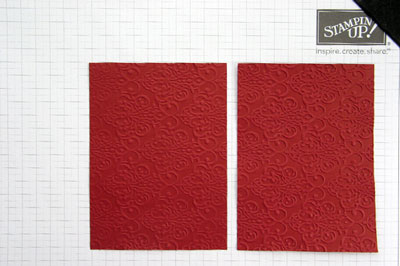 It's well worth experim-enting with the pressure of your die-cutting machine to see what difference it makes. Here I followed the instruction on my Big Shot and used Tab 1 to get the deeper impression on the right and then used it with no Tabs at all to get the more subtle effect on the left. Left as plain textured card like this, I prefer the no Tabs, subtle effect, however …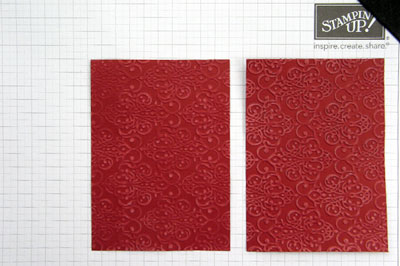 … if you then sand it then you tend to get a more even pattern emerging on the Tab 1, deeper impression on the right. This folder is the Lacy Brocade (127819). I haven't used the Core'dination version yet but you can see an example of it in use with ordinary cardstock on this Halloween card.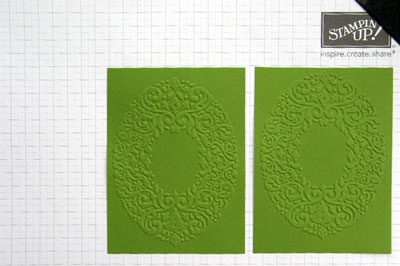 This effect varies with the pattern of embossing folder that you use. Here I've done the same thing and used Tab 1 for the right hand side version and no Tabs for the left hand side version …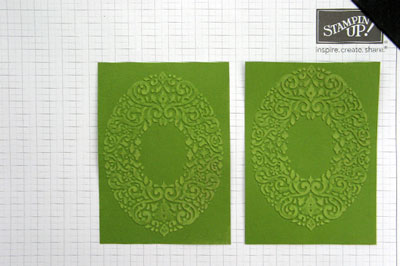 … and when sanded there's far less difference between them than for the other pattern. This folder is the Holiday Frame (127820) and you can see this Christmas card for an example of this combo in use.
So why not try experimenting with different sandwiches and different embossing folders and when you find an effect that you like I recommend that you make yourself a note of the combination used so that you don't have to go through the process again when you want a similar effect. (Ask me how I realised this!

).
Enjoy experimenting and don't forget to order any Core'dinations cardstock you want before the end of January 2013.
Sara xx