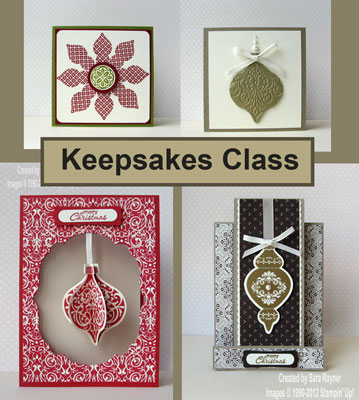 If you liked the look of these projects but were unable to attend our recent in-person Keepsakes Class (our October Class), you now have a chance to purchase the online version of the class.
This class covers a couple of "wow" designs that take a bit more work but result in cards they'll want to keep, a design to use year round (Ornament Keepsakes aren't just for Christmas

) and a simple card that's easy to reproduce when you have a batch to make. It includes an:
Aperture card;
Flower card;
Centre Step card; and a
Simple card
For the £3 fee you get unlimited access to a password protected website that contains:
– full step by step photos and instructions to make all the projects;
– shopping lists and cutting guides;
– links to other cards/projects that use the Ornament Keepsakes stamp set or the Holiday Ornaments framelits, on the Crafting and Stamping website.
To get immediate access to the projects just use the Paypal button below: