Each year that I've been to Convention (this was my 3rd), I've organised a card candy swap. I just love how professional these little bags of embellishments look!
This was my contribution: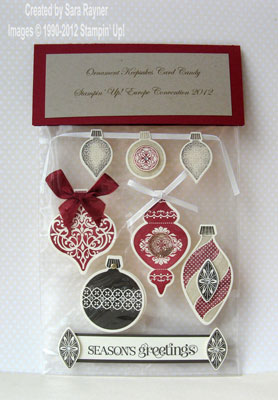 Recipe
Bundle: Ornament Keepsakes (W129949 or C129950)
Stamps: Curly Cute (W117014)
Card: Very Vanilla (106550)
Ink: Cherry Cobbler (126966), Crumb Cake (126975), Early Espresso (126974)
Ribbon: Cherry Cobbler Seam Binding (120992), Very Vanilla 1/8" Taffeta (119960)
Other: 1" Circle Punch (119868), 3/4" Circle Punch (119873), Shaker Frames (124155), Champagne Glass Glitter (120997), Basic Rhinestones (119246), Metallic Brads (119741)
The little baubles were stamped with the rock 'n' roll technique and then "strung" on a piece of ribbon. The large double bowl ornament is a shaker with glitter in it.  A hidden massage can be written on the swing out section of the round Early Espresso ornament. The other three pieces are simply matted and layered.
If you're thinking about purchasing the Ornament Keepsakes bundle to make something similar, then remember that if you also buy the Candlelight Christmas Specialty DSP, you'll get the Festive Paper-Piercing Pack FREE!
I'll be back soon to show you the card candy that I received in return.
Sara xx