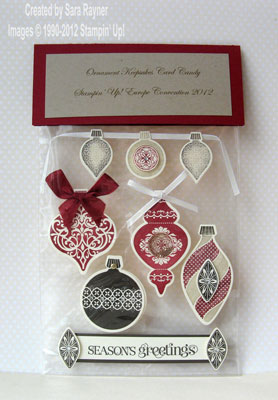 It's been one of those days today – I've got a rotten head cold – sore throat, headache, sniffles, the works … and Bess (the dog) has been constantly sick all day because she ate something buried in the leaves in the garden this morning. Thank goodness for crafting for keeping me sane!
Yesterday I shared the card candy that I made (full recipe is here) and I'm back today with the first batch of candy that I received in return 

Not sure what card candy is? It's a set of card toppers, packaged together professionally in a cellophane bag with a bag topper over it. We each select a stamp set to work with and keep to a set of rules (e.g. you can add a sentiment set but no other stamps, include 6 toppers in the package, use any current punches or dies, have a minimum of 2 layers and include some embellishments such as ribbon, brads etc). Some of the rules get bent just a little 

 but as long as it's not a lot and the quality is top notch then no-one seems to mind.
I was blown away by the swaps I got!
From Elaina, using Kindness Matters: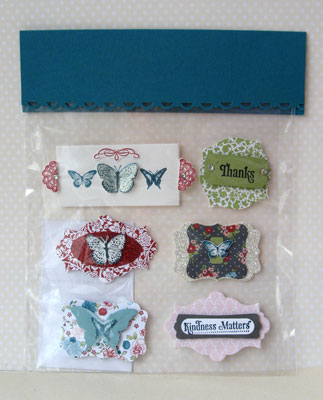 From Sandra, using Papillon Potpourri: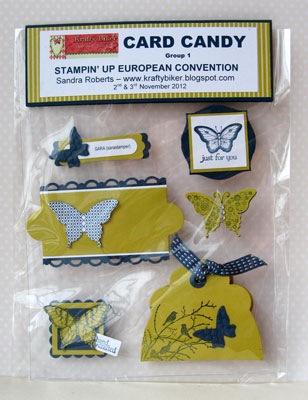 From Carolyn, using Make a Mitten: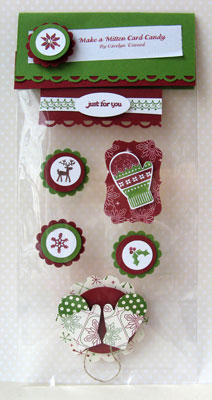 From Alison, using the Baby Tees jumbo wheel: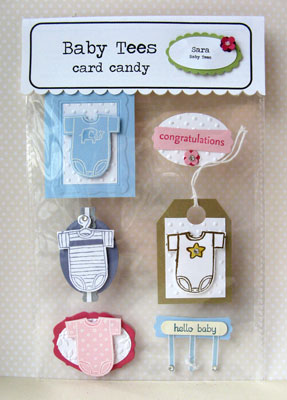 Aren't they just gorgeous! I'll be back with the second part of the swap tomorrow so please stop by again.
Sara xx