I've been playing with my Handmade Holidays Stitched Felt again

 (I finally got around to them for the first time just a few days ago).
This time the bauble is removable so that the recipient can hang it on their tree. The card design also gave me a great reason to break out the Alphabet die that I got for half price for having my own large workshop! (Ask me how?)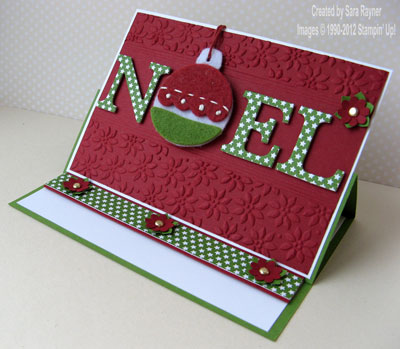 The easel card is an A6 landscape of Gumball Green. A Cherry Cobbler mat had parallel lines scored from the reverse  (so that they were embossed rather than debossed), using the Simply Scored, around 1″ from the top and 2″ from the bottom. The top and bottom edges, as far as the parallel lines, were then embossed with the Petals-a-Plenty folder (116824). Small and medium Boho Blossoms (119858) were punched from Cherry Cobbler and Gumball Green card, snipped, shaped and secured to the embossed mat with a Metallic Brad (119741) before adhering the whole layer to a Whisper White mat and then to the lower half of the card front. "NOEL" letters were die cut using the Typeset Alphabet Bigz (127553) and cutting them from the throw away (ha – never!) backing board that comes with DSP, covered with Multipurpose Adhesive Sheet (120805) and then with Snow Festival DSP (126908). This creates sturdy letters that aren't as heavy as chipboard. The N, E and L were popped up on slivers of dimensionals and the Handmade Holidays Stitched Felt bauble (127832) hung over the space between the N and the E and adhered to the back of the Whisper White card front layer with a piece of ordinary sticky tape (so that it's easily removable).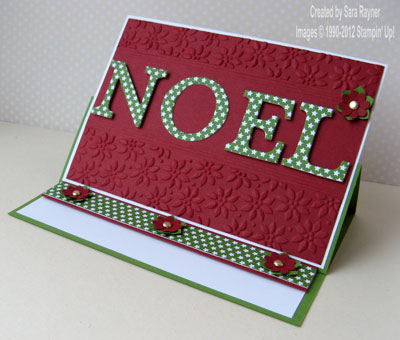 Now I did hide another die cut letter, the "O", underneath the bauble, so that the card still makes sense when the bauble has been removed.

 This letter though was adhered flat to reduce bulk.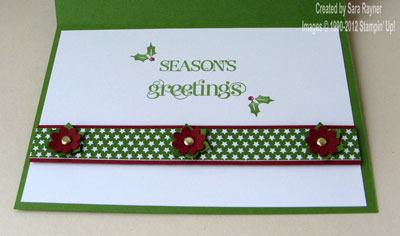 For the inside, a Whisper White insert was stamped with the sentiment from the Curly Cute set (W117014 or C120510) in Gumball Green along with the holly leaves from the Happy Hour set (W126640 or C126642), coloured with markers direct to stamp. The stopper bar for the easel support, was strips of Cherry Cobbler card and Snow Festival DSP, topped with more of the Boho Blossom flowers.
I'm certainly looking forward to making more of my own lighter weight letters to use on other cards and gift packaging.
Sara xx